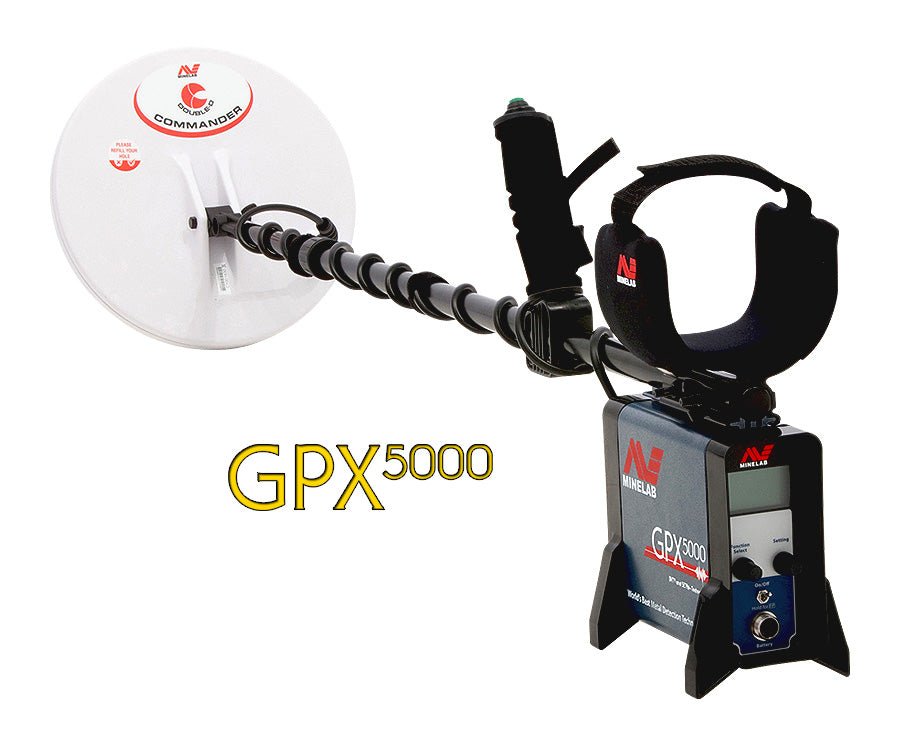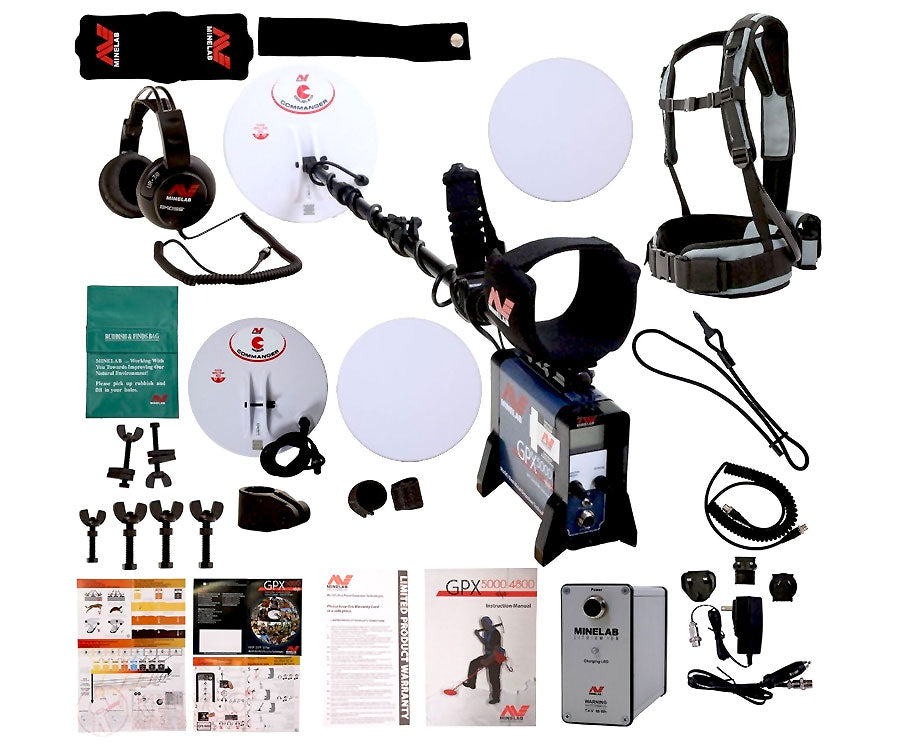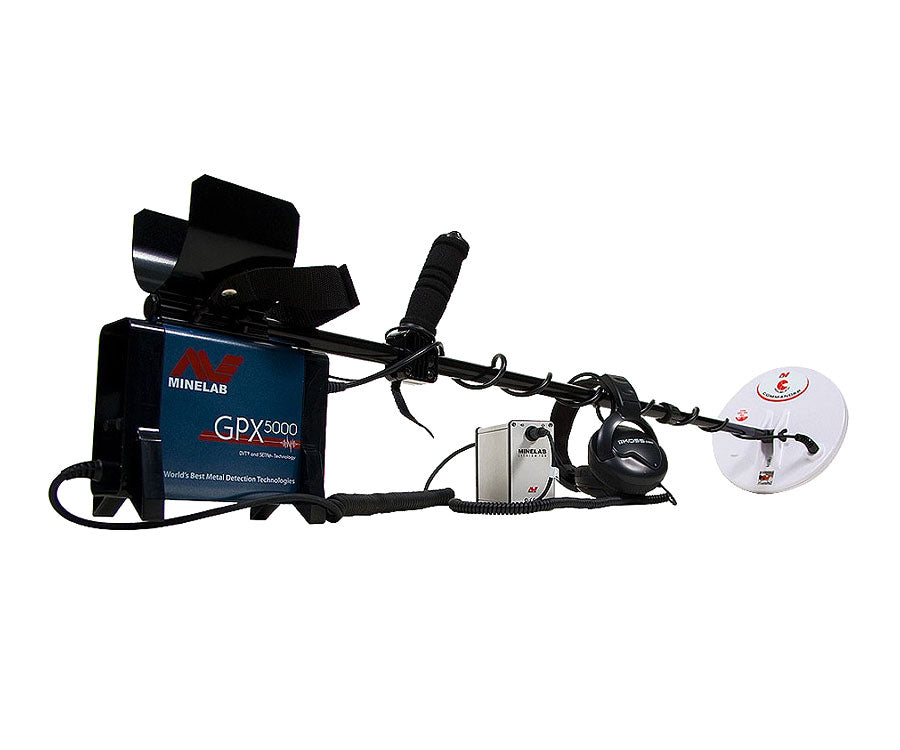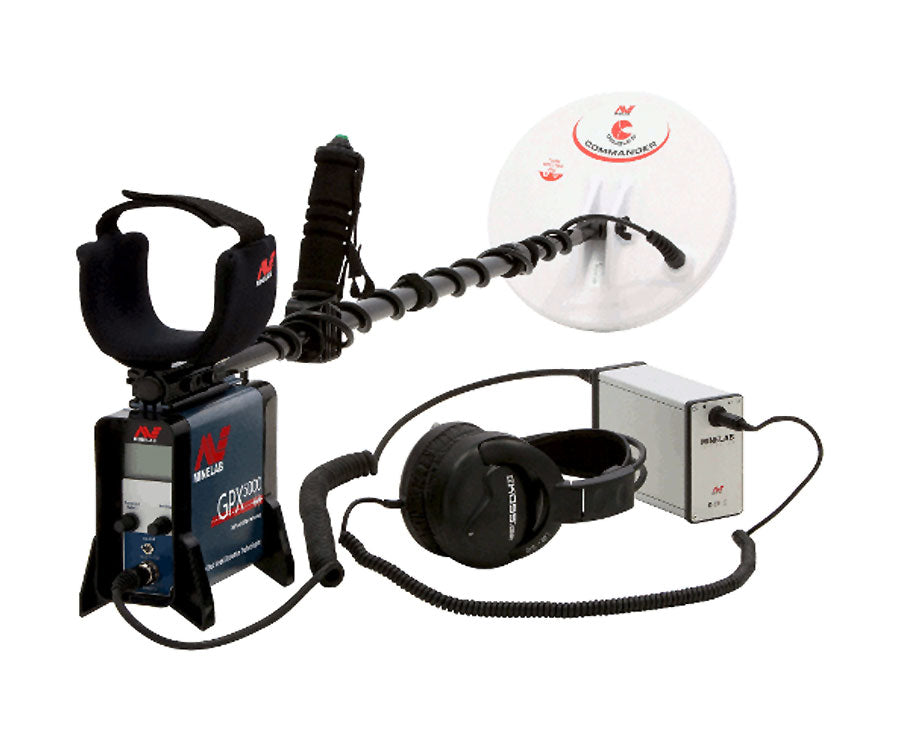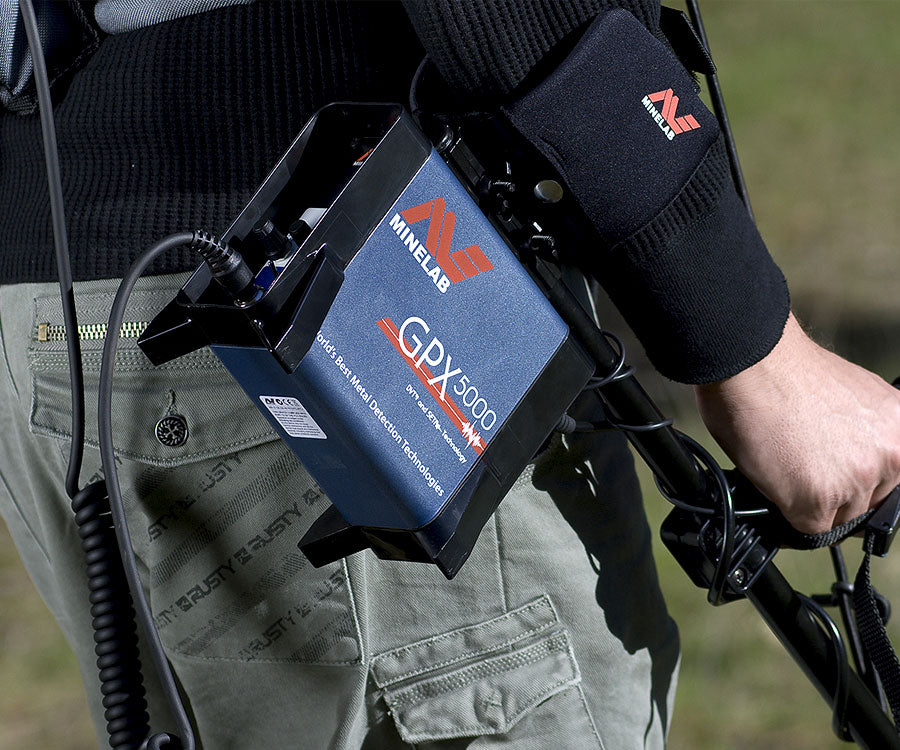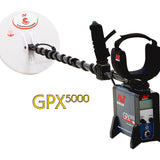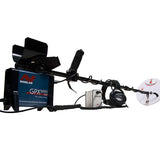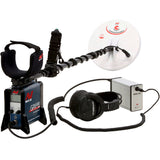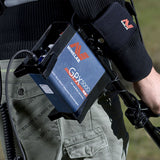 Minelab | GPX 5000 Metal Detector | LMS Metal Detecting
Manufacturer SKU 3300-0420
*NOTICE – If you're seeing this message, 24 hour in store pickup might be delayed 3 -5 days due to low inventory on this item.
Minelab GPX 5000 Metal Detector - Find all gold, in all soils, all the time
High performance MPS technology combined with the versatility of many search coil options make the GPX 5000 a favorite for serious prospectors.
With automatic features and an easy-to-use interface, you'll be an expert at finding gold from the moment you turn on your GPX 6000. Because Automatic Ground Balance continuously adapts to changing soil conditions as you swing your detector over the ground, there's no need to adjust any settings. Finding gold has never been easier.
Product Highlights:
Total Weight: 5.3 lbs (2.4 kgs)

Frequency: Bi-Level, Advanced Pulse Induction

Warranty: 3-year limited warranty

Waterproof: No

Battery Type: Lithium Ion Rechargeable Battery with Built-in Amplifier

Battery Life: 25 to 30 Hours

Discrimination Control: Eliminate or Tune Out "Junk" and Unwanted Targets

Dual Voltage Technology (DVT): Ensures an Accurate Ground Balance to Provide Maximum Sensitivity and Depth in All Ground Types

Smart Electronic Timing Alignment (SETA): Ensures Threshold Stability is Improved and Maintained, Allowing you to Operate the GPX 5000 with Maximum Efficiency Under All Conditions

Headphones: Koss UR-30 Headphones included
Minelab | GPX 5000 Metal Detector | LMS Metal Detecting
Minelab
GPX 5000 Overview
The Minelab GPX 5000 is a top-of-the-line gold detector that has been expertly designed for the serious gold prospector and nugget hunter. It boasts a range of advanced features and cutting-edge technology that sets it apart from other metal detectors on the market.
Moreover, the GPX 5000 is built to withstand even the toughest conditions, making it a durable and reliable choice for any gold prospector. Whether you are searching in the harshest of environments or in areas with high levels of mineralization, the GPX 5000 is designed to deliver consistent results and help you find the gold you are searching for.
GPX 5000 Quick Start Guide Download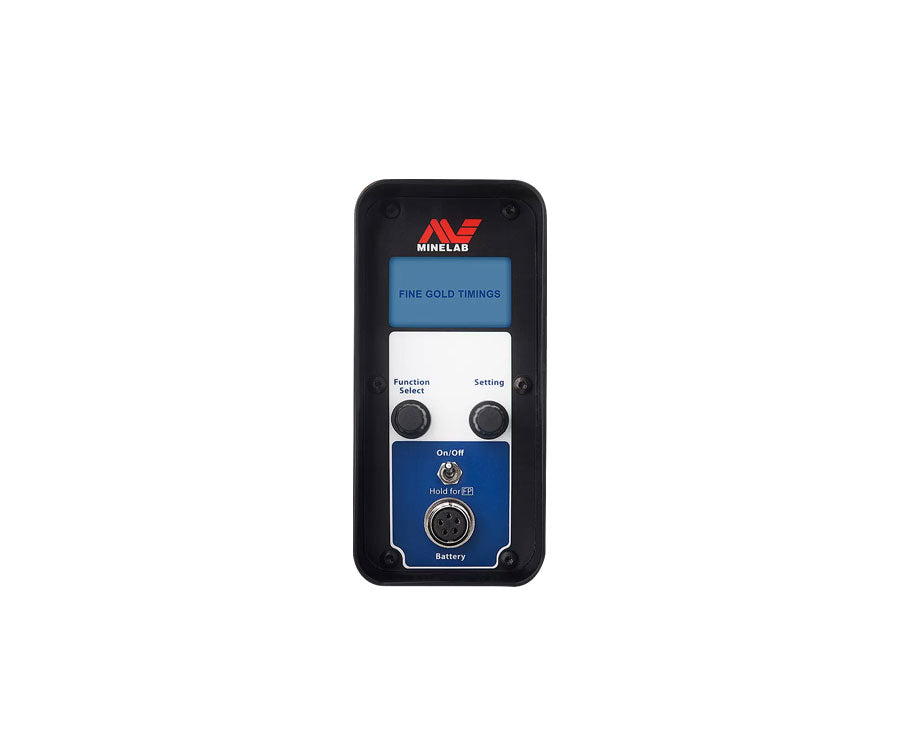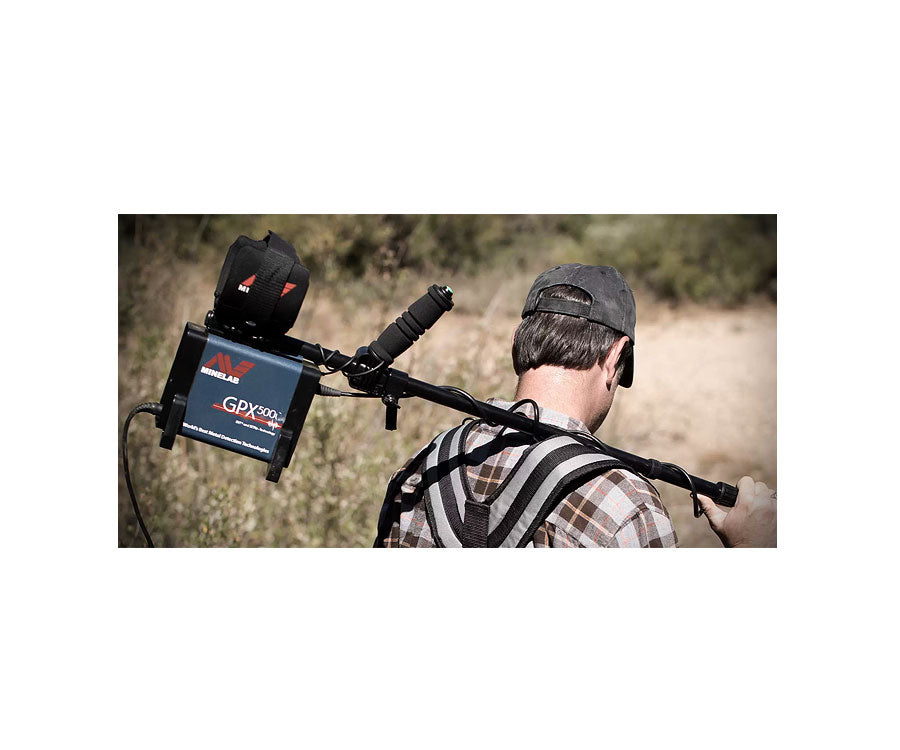 GPX 5000
Factory Included Items:
Minelab Lithium Ion Battery
Minelab Commander Series 11″ Round Double D Search Coil
Minelab Commander Series 15″ x 12″ Elliptical Monoloop Search Coil
Minelab Koss 100 ohm headphones
Minelab Metal Detecting Harness
Minelab Armrest Strap for the Sovereign, Eureka, and GP/SD Series
Minelab GPX Series 12v Vehicle Charger Plug-pack
Minelab GPX Series Mains Charger
Minelab GPX Series Battery Harness
Minelab Finds and Rubbish Bag
Armrest Cover
Armrest Strap
Armrest Wear Kit
Coil Wear Kit
Bungie Cord with Clamp
Detailed Instruction Manual
3 Year Warranty
GPX 5000
Features:
MPS, DVT, & SETA Technology: delivers to you the most technologically advanced detector yet, making small hard to hear nuggets more obvious.
New Timings: make the GPX 5000 the most versatile ever. It's like having 8 detectors in one. In addition to five of the Timings found on the previous model the GPX 5000 introduces three new Timings - Coin/Relic, Salt/Gold, and Fine Gold.
Fine Gold Timing: gives even more depth and sensitivity.
Salt/Gold Timing: is great for all nugget sizes in salty ground outstanding at the beach.
Coin/Relic Timing: is the deepest ever for benign ground conditions.
Improved Enhance Timing: for more depth.
Improved Electronics: for increased target sensitivity and ground balance performance
Six Preset Search Modes: gives you easy switch on and go detecting. In addition to General and Deep search are: Hi-Mineral, Patch, Hi-Trash and Pinpoint. All six Search Modes can be modified to your personal favorite settings. Menu accessible Search Modes can also be renamed.
Increased Rx Gain Adjustment: allows you more precise sensitivity control for optimum performance.
Automatic Ground Balance: options make it easy to adjust the detector to suit all ground conditions. e.g. (Fixed, Tracking, Tracking speed, Ground Balance Type, Quick-Trac button).
Audio Adjustments: to maximize target signals for your personal hearing ability e.g. (Threshold, Tone, Audio Type, Signal Peak, Response, Target Volume, Volume limit, Stabilizer).
Iron Reject Adjustable: to suit the iron trash level where you are detecting.
Motion Control: adjustable to match your sweep speed and optimize target responses.
Tune (also known as Noise Cancel): Automatic and Manual options to minimize electrical interference.
Backlight: so that you can read the LCD menu in any light, allowing you to detect day or night. The back light also has an adjustable timeout to help preserve battery power.
Lightweight Li-ion Battery: with inbuilt Speaker Booster capability
Two coils as standard: 11" Double-D coil plus 15″ x 12" Monoloop coil giving you added versatility and value.
Languages: English, Spanish, Russian, and Arabic (manual only).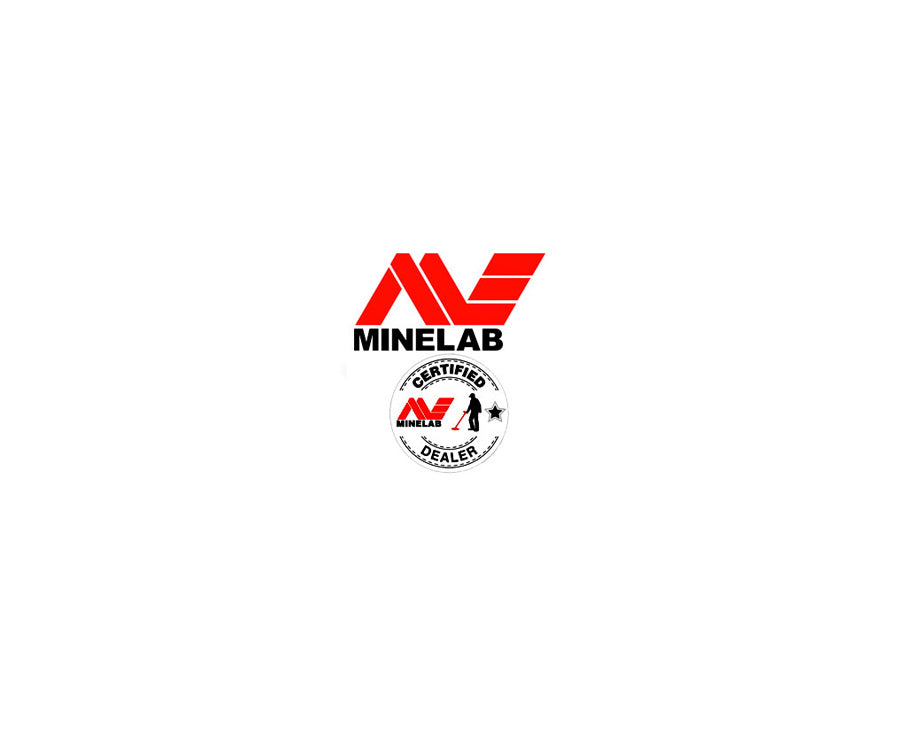 Specifications
Manufacturer: Minelab
Manufacturer SKU: 3300-0420
Product Type: GPX 5000 Metal Detector
Detector Type: Gold
Application: Gold Prospecting & Deep Relic
Technology: MPS, DVT & SETA
Frequency/Transmission: Bi-Level, Advanced Pulse Induction
Coil (standard): 11" Round Double-D plus 15 x 12-inch Monoloop.
Audio Output: 6.35mm (1/4") headphone/speaker jack.
Headphones Supplied: Koss 100 ohm headphones.
Visual Display: 64 x 128 pixels, transflective with white backlight.
Backlight: Yes with adjustable automatic 'time-out'.
Memory: Setting changes saved automatically and remain until changed or reset. Factory Presets can be restored on start-up.
Detect Modes: General, Deep, Hi-Mineral, Patch, Hi-Trash & Pinpoint (all user programmable)
Discrimination: Iron Reject - Range 1 to 10 & Off (All Metal).
Timings: Normal, Sensitive Extra, Enhance, Sharp, Sensitive Smooth, Coin/Relic, Salt/Gold & Fine Gold.
Audio tone: Variable Control 1 to 100.
Audio Type: Quiet, Normal, Deep & Boost.
Ground Balance: Automatic Ground Balance, Fixed & Tracking: Slow, Medium & Fast. Quick-Trak button.
Ground Balance Type: General, Specific & Ground Balance Off.
Sensitivity Adjust:Rx Gain 1 to 20.
Tune / Noise Cancel: Automatic & Manual 0 to 255.
Threshold: Adjustable turn control.
Target Volume Adjust: Target Volume 1 to 20. Volume Limit 1 to 20.
Battery: Lithium-ion rechargeable battery 68Wh with in-built amplifier for speaker use. Approx. 12 Hours use. Supplied with mains and vehicle charger.
Low Battery Alert: Audio alert.
Length: 1100mm (43.3") à 1300mm (51.2").
Weight: 2.4kg (5.3lbs) including 11" coil (excluding battery and accessories). Battery weight 780g (1.7lbs).
Warranty: 3 years control box & coil.