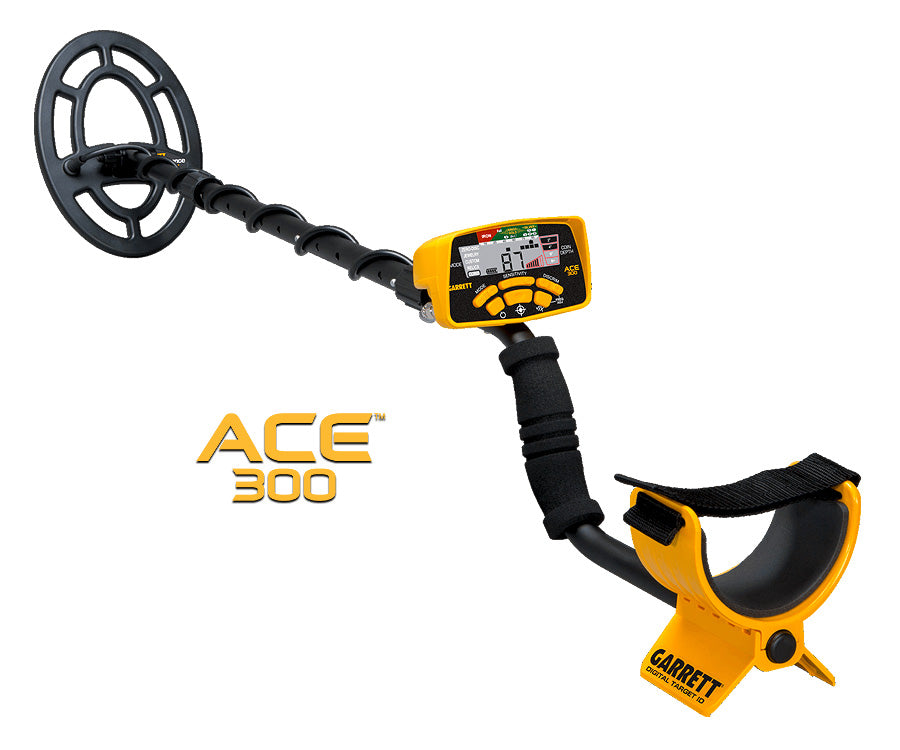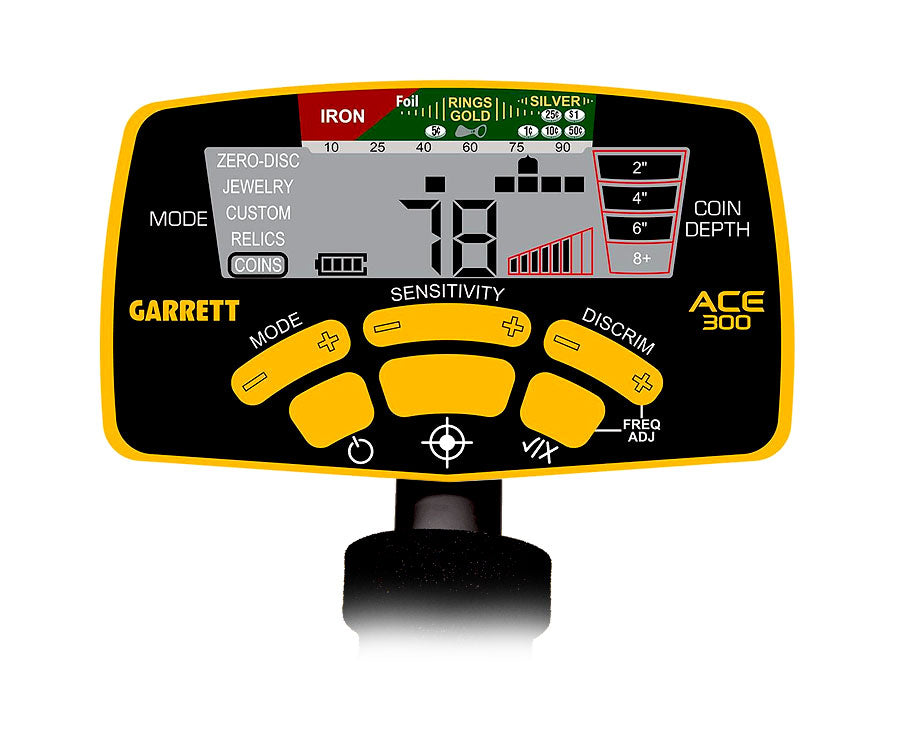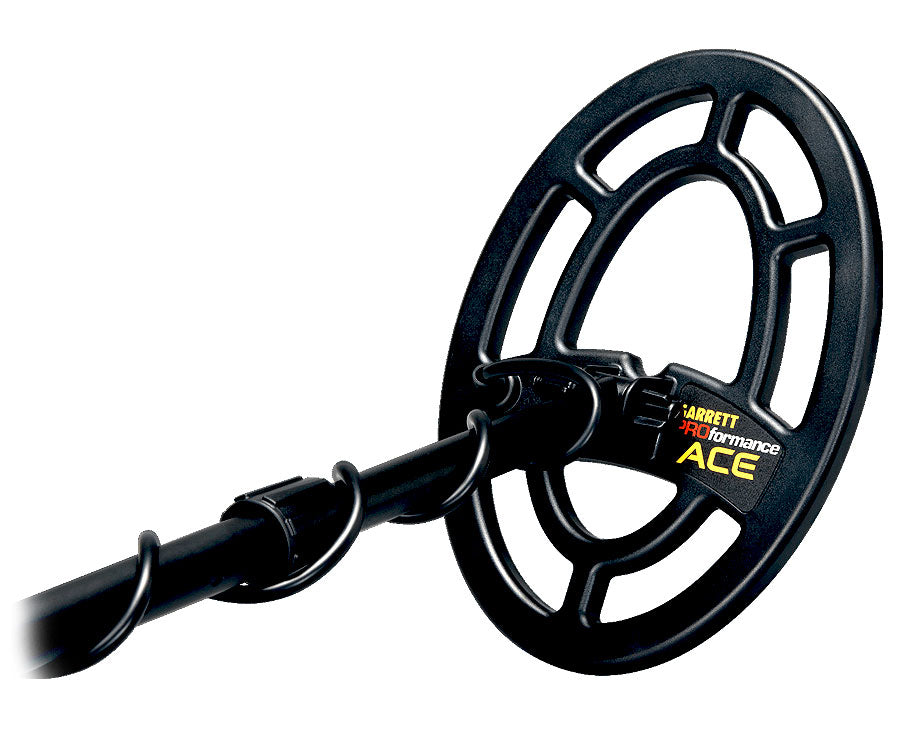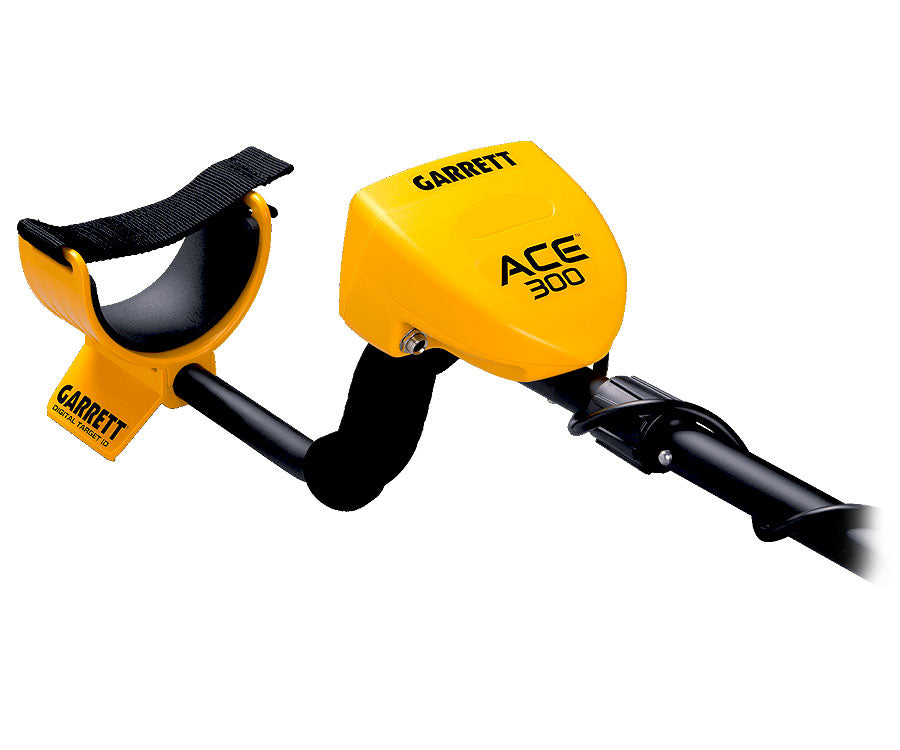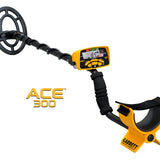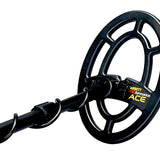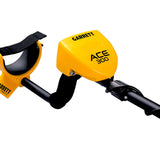 Garrett | Ace 300 Metal Detector | LMS Metal Detecting
Garrett ACE 300 Metal Detector with 7" x 10" PROformance Ace Search Coil
The Garrett ACE 300 Metal Detector comes with 5 search modes, 4 iron discrimination segments, and Digital ID to quickly determine the find.
Product Highlights:
Headphones: ClearSound Easy Show Headphones

Frequency: 8 kHz Frequency


Coil: Ace 7" x 10" PROformance Search Coil With Cover

Total Weight: 2.8 lbs (1.27 kgs)

Warranty: 2 Year Limited Warranty

Ground Mineralization: Adjusts Automatically

Audio: Three Distinctive Tones Based on Metal Type and Conductivity

Continuous Coin Depth Indicator: Determines a Target's Depth


Digital Target ID: Indicates the Properties of a Target with Scale Ranging from 0 to 99
Garrett | Ace 300 Metal Detector | LMS Metal Detecting
Garrett Metal Detectors
ACE 300 Overview
Garrett has placed big features into the ACE 300 with excellent detection depth, rugged design, and ease of operation, for a price that can't be beat.
Upgrades up from the Ace 250 with a Garrett 7×10 ACE PROformance coil, higher frequency of 8 kHz (the old ACE 250 operates on a 6.5 kHz frequency), Digital VDI/Target ID, extended discrimination range, Frequency Adjust, a new audio response, shaft locks.
Highly Recommended – Coin Hunting, Dry Beach/Fresh Water Hunting, Jewelry Hunting, Relic Hunting, Ghost Town Hunting, and Prospecting.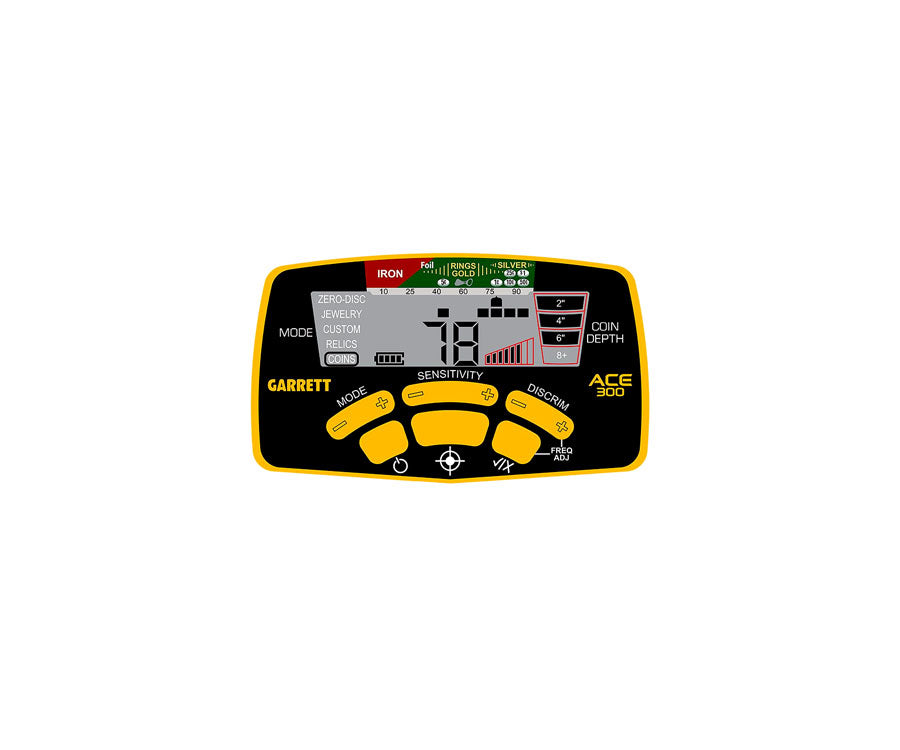 Features
New Digital Target ID: 0 to 99 scale offers target information
New 7″ x 10″ PROformance™ Submersible Search Coil: Offers more coverage and depth
New Higher Frequency (8 kHz): Provides better sensitivity on low and medium-conductivity targets (i.e. gold, lead)
New Increased Iron Resolution: Twice the iron resolution of an ACE 250, to help overcome target masking in iron-laden hunt sites
New Adjustable Frequency: To help eliminate interference
New Camlocks: For increased stem stability
Includes Pulse-Width Modulation Audio: Sharper, more responsive audio
Includes Electronic Pinpointing: Precisely locates targets and speeds recovery
Notch Discrimination: Modify discrimination patterns based on what you are seeking
Five Search Modes (plus Pinpoint)
Eight (8) Sensitivity/Depth Adjustments
Coin Depth Indicator: Determines target depth
Expanded Target ID Legend: Includes indication of U.S. coin denominations
Factory Included Items
Garrett ACE 300 Metal Detector
Garrett 7″ x 10″ ACE PROformance Search Coil: This coil is made for use with the Garrett Ace series metal detectors.
ClearSound Headphones: In-line volume control Rotating earpieces for easy packing. Its 41″ coiled cord extends to 82″.
Garrett ACE Environmental Cover Up: Protect your metal detector's control box against mud and bad weather.
Garrett 7″ x 10″ Search Coil Cover: Protect your search coil against rough conditions and terrain.
Adjustable Arm Strap: Holds the detector tight to your arm.
Garrett ACE 300 Instruction Manual: Instruction Manual to help assemble, take care of, and learn how to operate your metal detector.
Garrett Search Coil Hardware Kit: Includes Bolt, Washers, and Nut. This kit includes the nut, bolt, and washers that hold the search coil to the lower pole of your Garrett Metal Detector.
4 "AA" Batteries Included: Power your ACE 300 right out of the box.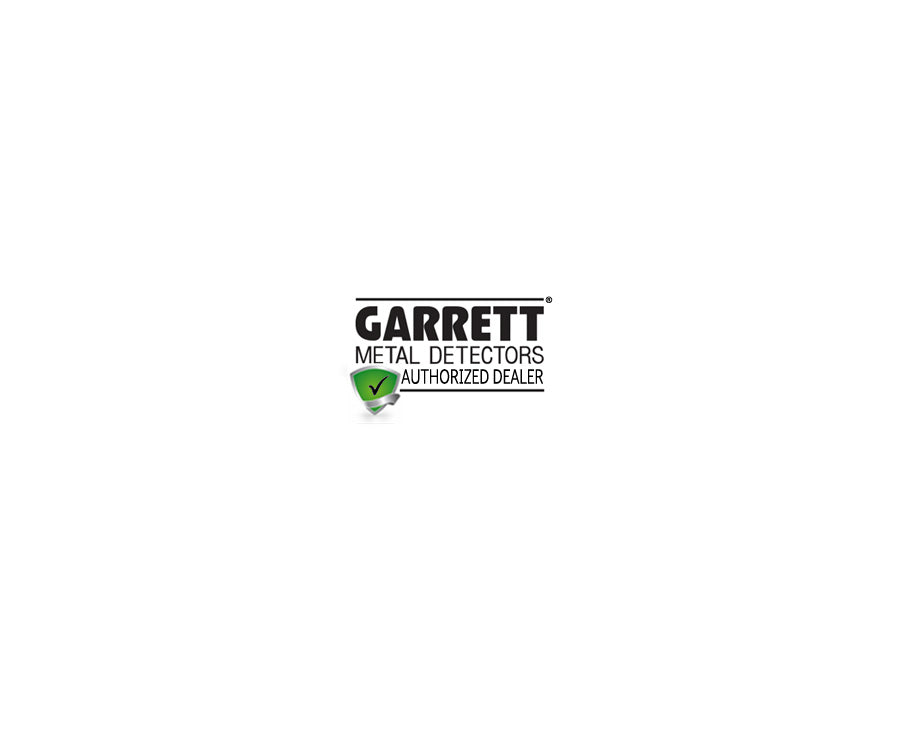 Specifications
Manufacturer: Garrett
Manufacturer SKU: 1141150
Detector Type: All-Purpose
Iron Audio: No
Iron Discrimination Segments: 4
Notch Discrimination: Adjustable
Search Modes: 5 (Plus Pinpoint)
Sensitivity/Depth Adjustments: 8
Digital Target ID: Yes
Pinpoint: Yes
Frequency: 8 kHz, adjustable
Audio Tone ID Levels: 3
Target Depth Indicator: Yes
Standard Search Coil: 7" x 10" concentric PROformance™
Length (Adjustable): 40" to 53" (1.016m - 1.35m)
Power: 4 AA (included)
Battery Condition Indicator: Yes
One-Touch Treasure Hunting: Yes
Camlocks for more stem stability: Yes
Headphones Included: Yes
Total Weight: 2.8 lbs (1.27 kgs)
Warranty: 2 Year, Limited Parts/Labor