Garrett | Ace Apex Metal Detector Spring Accessory Bundle 6" x 11" Viper DD Coil & Pro-Pionter AT With Z-Lynk Wireless | LMS Metal Detecting
*NOTICE – If you're seeing this message, 24 hour in store pickup might be delayed 3 -5 days due to low inventory on this item.
Garrett ACE Apex Metal Detector Spring Accessory Bundle 6" x 11" Viper DD Coil & Pro-Pionter AT With Z-Lynk Wireless
This Bundle Includes:

Garrett Ace Apex Metal Detector with 6" x 11" Viper DD Coil and Coil Cover
Pro-Pointer AT with Z-Lynk Wireless
Edge Digger
Garrett Ace Apex Cap
Keepers Find Box
Garrett's Multi-Flex technology, fueled by a cutting edge, broad-bandwidth digital platform, simply gives you more versatility with the Apex than can be found on any detector in its price range!
5 kHz | 10 kHz | 15 kHz | 20 kHz | Mulit-Frequency | Milti-Salt
Choose from powerful single frequencies to enhance detection on specific targets*, or select one of Apex's simultaneous multifrequency modes to achieve excellent detection on all targets in all soils.
*Note: lower frequencies generally offer improved detection on larger and more conductive targets (i.e. large silver coins). Higher frequencies generally offer improved detection on smaller and less conductive targets (i.e., hammered silver coins, gold nuggets).
Product Highlights:
Z-Lynk Technology: Built in low-latency wireless capability.
Light Weight: Well balanced detector at only 2.5 pounds
Wired Audio: 1/8" Headphone Jack

Optional MS-3 headphones are NOT Included with this bundle
Built In Li-Ion Battery: Full Charge lasts Approximately 15 Hours, varies with settings.
Garrett | Ace Apex Metal Detector Spring Accessory Bundle 6" x 11" Viper DD Coil & Pro-Pionter AT With Z-Lynk Wireless | LMS Metal Detecting
Garrett Metal Detectors
Ace Apex Overview
This ACE Apex from Garrett has been equiped with the 6" X 11" Viper DD coil to find more treasure. The ACE Apex is a great multi-frequency metal detector for beginner detectorists because it is simple to use and comes with many ready-to-go settings. The multi-frequency functionality allows the user to select 1 of four different frequencies or two all frequency modes, one perfect for land hunting and one setting specific for hunting in saltwater beaches. With the waterproof coil and a rainproof control box, you can take this out in all weather and treasure hunt along the surf. Two separate coin modes allow you to narrow your search. The U.S. coin setting even displays whether you may be about to unearth a quarter or a penny with coin icons beneath the notch pattern upper scale. The Apex will certainly help up your detecting game.
You also get an exclusive bundle of Garrett accessories when you purchase this Apex.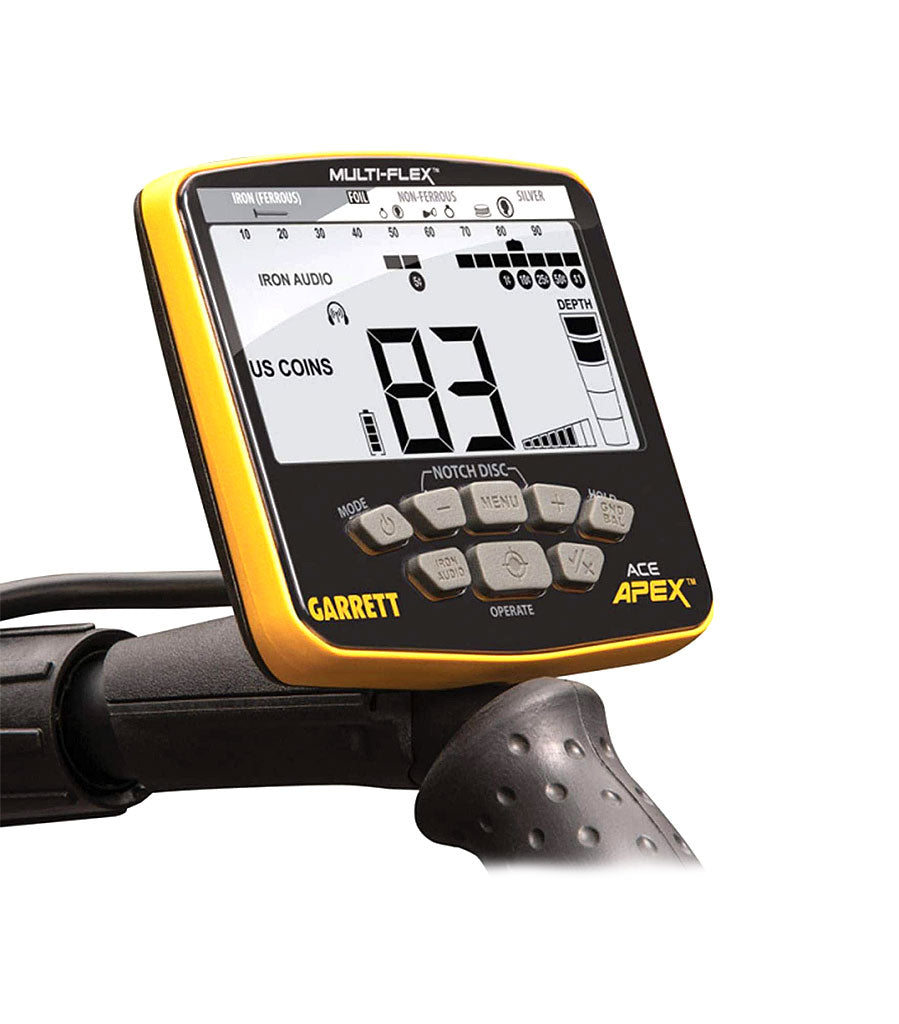 Features
Complete Flexibility: Choose from powerful single frequencies or select a simultaneous multi-frequency mode to achieve excellent detection on all targets in all soils or sands.
8 Channels per Frequency: 8 independent frequency shifts for each single and multi-frequency – 48 different frequency settings.
Six Detection Modes + Pinpoint: Zero, Coins, US Coins, Jewelry, Relics, and Custom.
Backlit LCD: For night searches.
Rechargeable Battery: Built-in rechargeable lithium-ion battery provides up to approximately 15 hours of use, depending on the setting.
High-resolution Ground Balance: 175 points of ground balance resolution, ranging from ferrous ground to saltwater.
Built-in Z-lynk Wireless: Hunt without the cords - exclusive Garrett Z-Lynk wireless is up to 6 times faster than Bluetooth.
1/8" JACK for optional wired headphones
Iron Audio: Garrett's unique feature helps to ID complex iron objects, such as bottle caps.
Large Target ID Numbers
High-Resolution Notch
Discrimination: Twenty pixels of Notch Discrimination, including eight pixels of Iron.
Iron Volume: Allows the user to decrease the volume of iron targets without decreasing the volume of non-ferrous targets.
Light Weight: Well-Balanced and only 2.5 lbs.
Volume Control: For both the built-in speaker and headphones.
Factory Included Items
ACE Apex Metal Detector
6″ x 11″ Viper Coil
Viper Coil Cover
Garett Pro-Pointer AT with Z-Lynk
Garrett Edge Digger
Apex Environmental Cover-Up
Mini-USB Charging Cable
Apex Cap
Garrett Keepers Box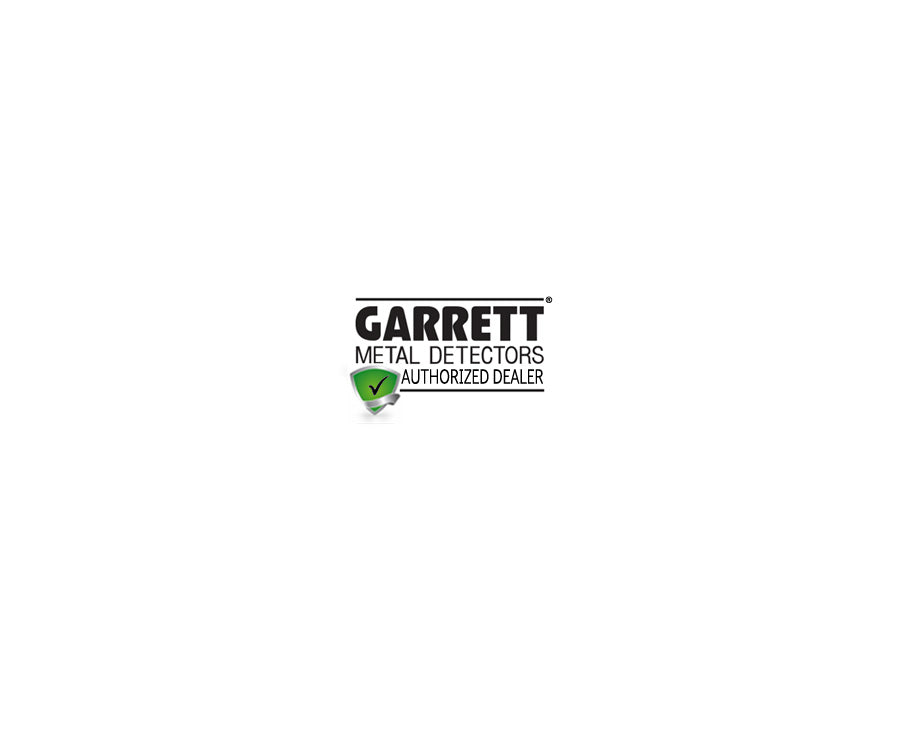 Specifications
Manufacturer: Garrett
Manufacturer SKU: 1142321
Product Type: Metal Detectors
Best for Beach, Beginner, Coin, Relic
Detector Type: All-Purpose
Interchangeable Search Coil: Yes
Technology: VLF Multiple Frequency
Arm Rest: Fixed
Arm Rest: Strap Yes
Adjustable Shaft: Yes
Apps: No
GPS: No
Audio Tones: Yes
Depth Indication: Yes
Control Box Mount: Standard
Frequencies: 5, 10, 15 and 20khz Single Frequency, plus Simultaneous Multi-Frequency and Multi-Salt
Number of Frequencies: 4
Programmable Target Id: Yes
Target Id Segments: 20
Target Id: Yes
Threshold: Adjustable
Discrimination: Adjustable
Pinpoint Mode: Yes
Ground Balance: Automatic,
Vibration Mode: No
Search Modes: 6
Search Mode Types: Coins, Custom, Jewelry, Pinpoint, Relics, Zero Discrim.
Search Flashlight: No
Display Type: LCD
Backlit Display: Yes
Volume Control: Yes
Headphone Jack: 1/8"
Bluetooth Compatible: No
Interchangeable Headphones: Yes
Battery Type: Lithium-Ion
Battery Life: Approximately 15 hours, Varies with Frequency & Settings
Waterproof: Non-Waterproof
Rechargeable System: Yes
Warranty: 2 Year
See - frequently asked question

I just unboxed my detector and have it assembled, and it doesn't turn on. Is it normal for the battery to be dead upon arrival? It is charging, but I'm concerned...

The Apex uses a lithium rechargeable battery and they have a minimal amount of charge time during production testing. It is recommended to fully charge the battery for 4 to 5 hours prior to use.

I see the coil is waterproof, but what about the control box?

Hello, the control box is moisture resistant not waterproof. You should be able to safely use it on rainy days with the included rain cover on it. Thank you for your question.

Do you recommend carrying a power bank just incase the battery dies while I'm out metal detecting?

It depends - for example: if you were camping for the weekend without a power source, then yes.

However, if you were just planning a long day out hunting, then no. The battery will provide power for approximately 15 hours of operation from a full charge. The time will vary with different frequencies and backlight setting somewhat. thank you for your question.