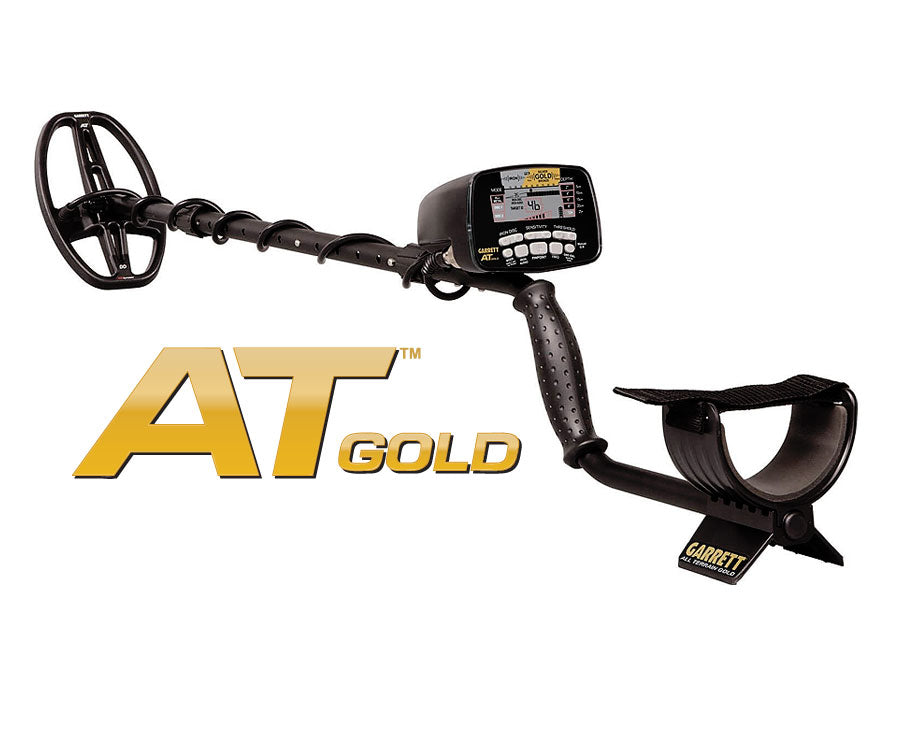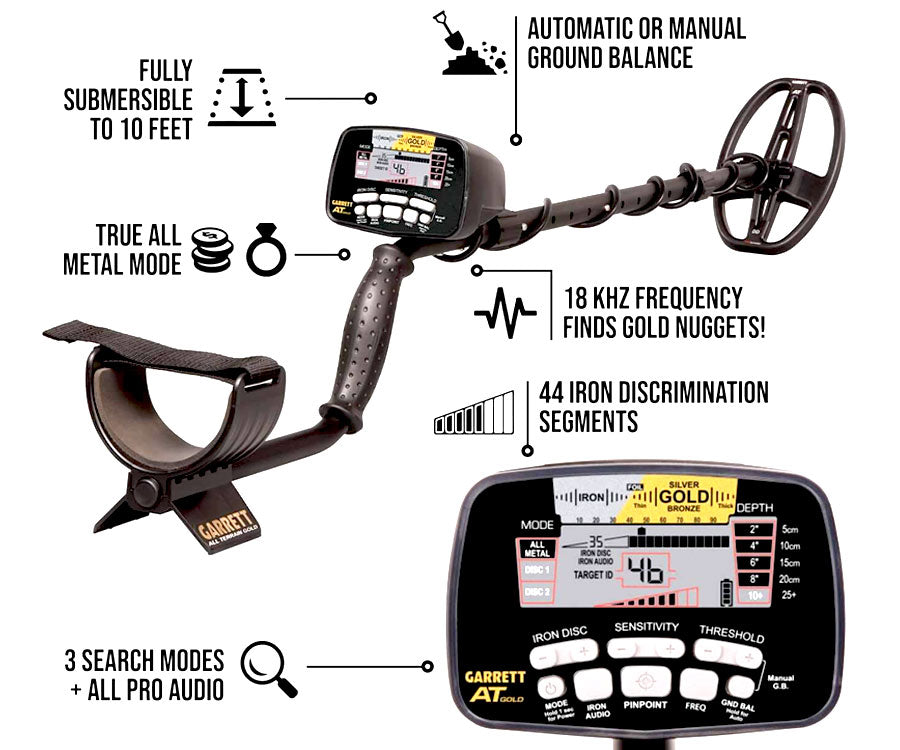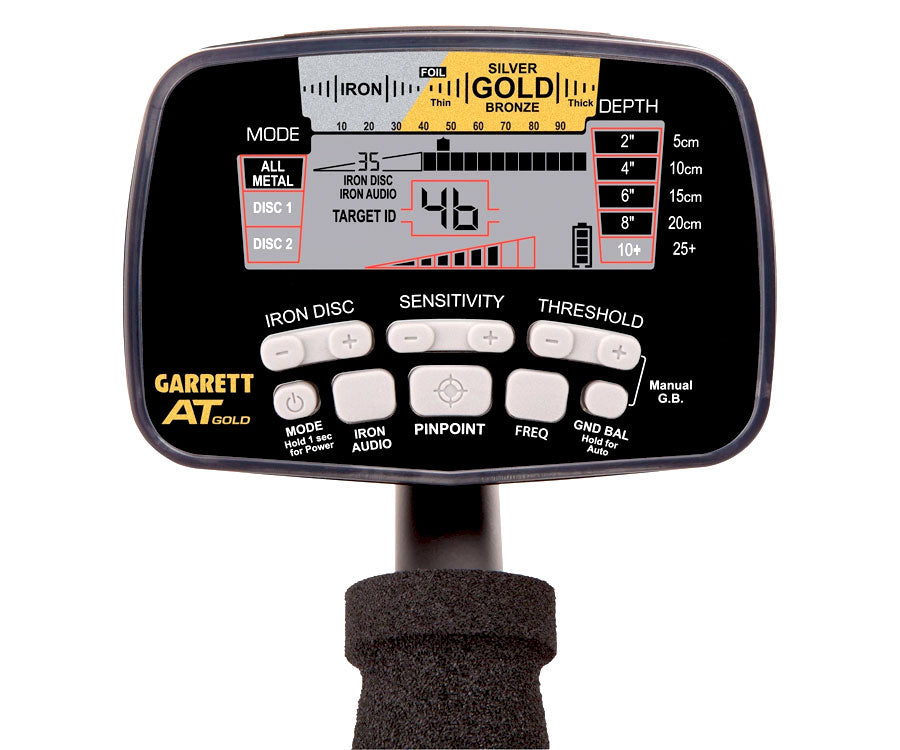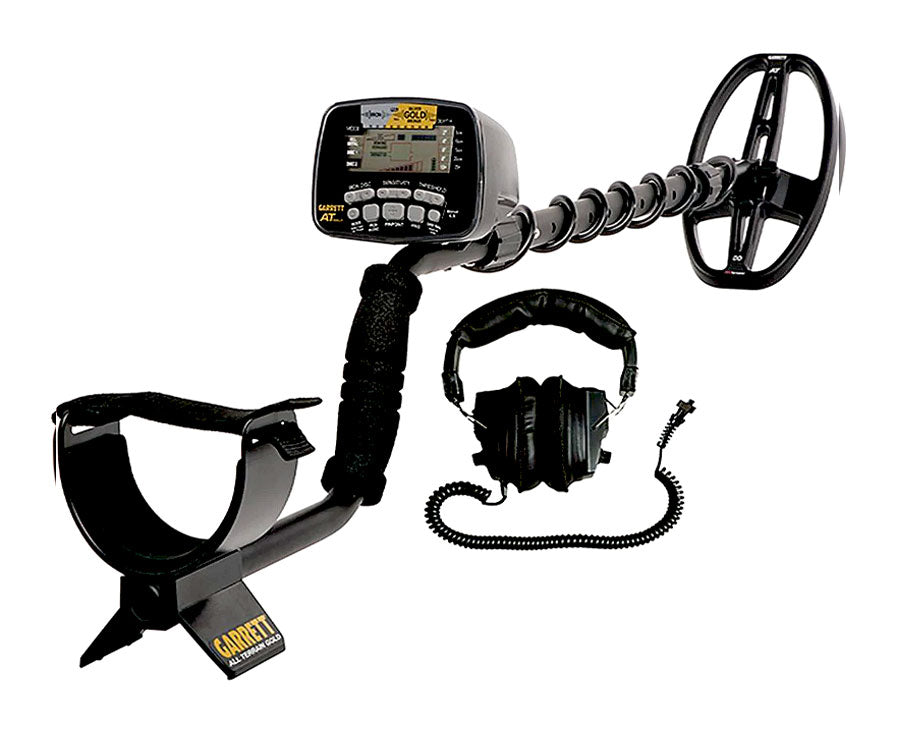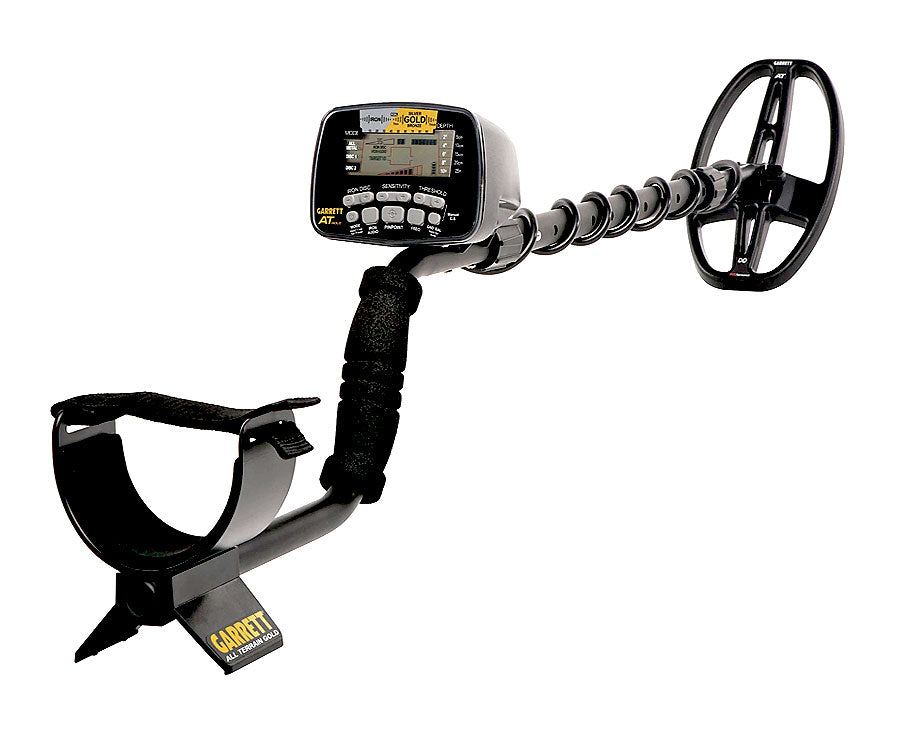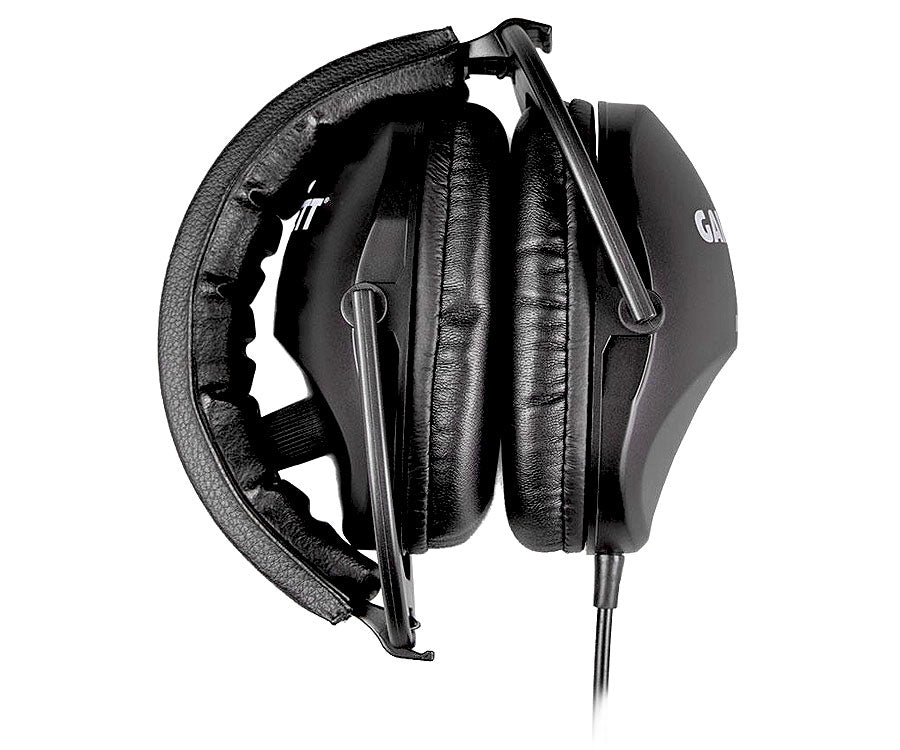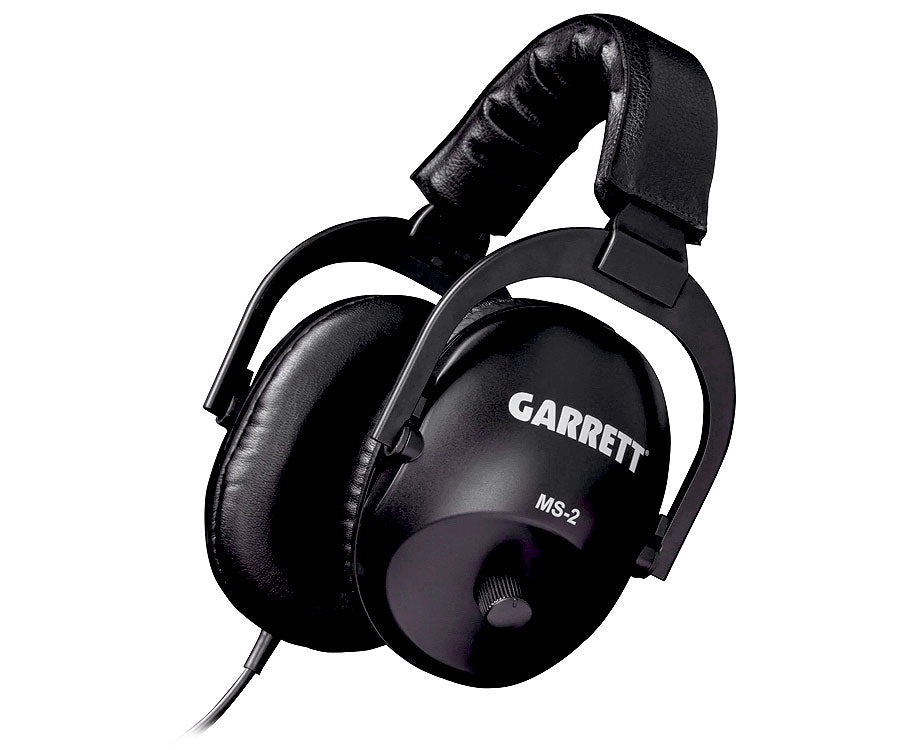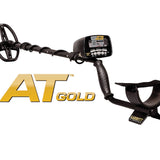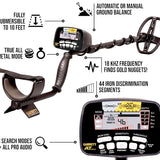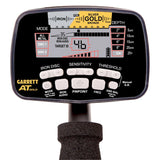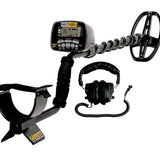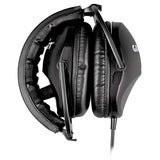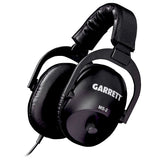 Garrett | AT Gold Metal Detector with Waterproof 5" x 8" DD Search Coil | LMS Metal Detecting
*NOTICE – If you're seeing this message, 24 hour in store pickup might be delayed 3 -5 days due to low inventory on this item.
Garrett AT Gold Metal Detector with Waterproof 5" x 8" DD Search Coil
The Garrett AT Gold Metal Detector was designed with the gold prospector in mind. Perfect for gold hunting in water, but also great for finding relics or coins. Includes 5x8" DD Search Coil and wired MS-2 headphones.
CONQUER ANY TERRAIN
Manual and Automatic ground balance features, plus exclusive Garrett Ground Balance Window which allows the user to "spread" the ground balance setting to reduce response to subtle ground variations.
Product Highlights:
Search Coil: 5" x 8" Elliptical DD Coil

Construction: Waterproof up to 10ft or 3m Deep

Warranty: 2 Year Limited Warranty

Tone Roll Audio: Listen as the signal modifies over iron targets to help with more precise identification.

Headphones: Wired Land MS-2 Headphones
Garrett | AT Gold Metal Detector with Waterproof 5" x 8" DD Search Coil | LMS Metal Detecting
Garrett Metal Detectors
AT GOLD Overview
The AT Gold is optimized for gold with a high operating frequency, but also has the flexibility of a True All Metal Mode. The All Metal Mode provides the greatest possible depth and sensitivity so you don't miss anything in the water or on land. This detector also has two discrimination modes with a Zero Discrimination setting and a U.S. coin setting. The Garrett AT Gold features Tone Roll Audio so you can listen to the signal even more clearly as it modifies and changes the audio characteristic to help identify what kind of iron you are targeting.
Garrett AT Gold Manual - English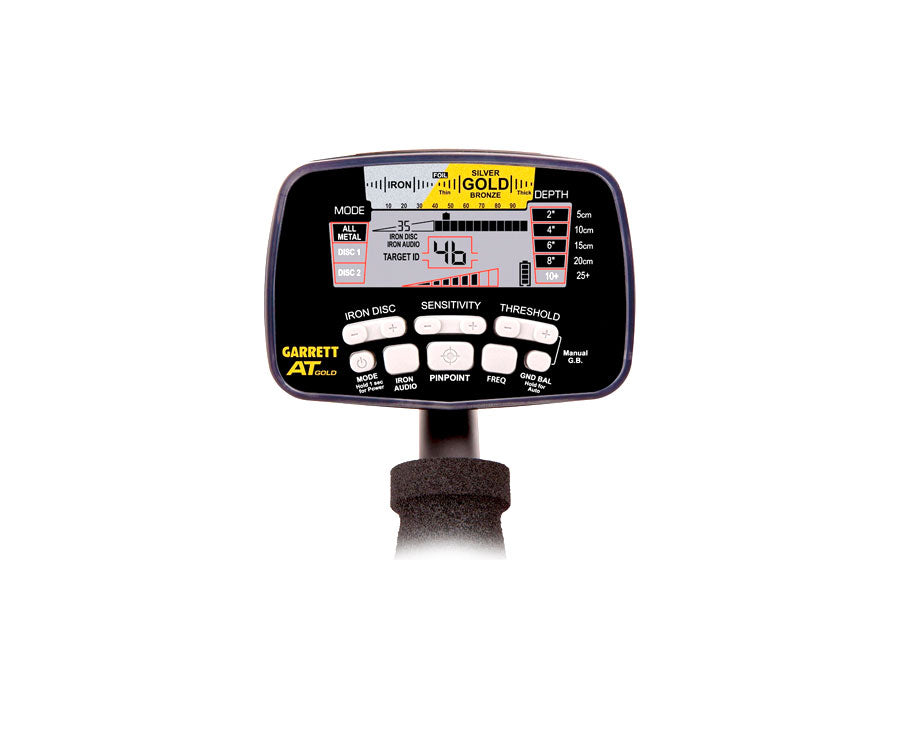 Features
All-Metal Mode: True All-Metal mode offers deepest detection depth and sensitivity on the smallest nuggets.
Graphic Target Analyzing: Simultaneously shows the target's conductivity and the detector's discrimination pattern.
All Terrain: Designed for use in wet, humid, and dusty environments. Weatherproof housing can be immersed in water to 10-foot (3m) depth.
Digital Target ID: Numeral scale from 0 to 99 indicates a target metal's conductivity for increased ability to distinguish targets from each other.
High-Resolution Iron Discrimination: Provides 40 points of iron resolution controlled with touch pads and viewed as a digital number on the LCD for the most precise ability to separate a good target from iron trash.
Adjustable Threshold: Allows the user to manually adjust the audio threshold (constant background sound) to better hear targets.
Pro Mode Audio: Proportional audio response and Tone Roll Audio features provide more target information.
Iron Audio™: Allows user to hear discriminated iron and to audibly identify problematic flat iron objects like bottle caps and washers.
All-Metal Iron Audio™: A Garrett exclusive feature that allows user to audibly identify iron objects even while operating in a True All Metal Mode.
Ground Balance (Manual): Allows the user to manually adjust the detector's ground balance to reduce the detrimental effects of ground mineralization.
Ground Balance Window™: A Garrett exclusive feature that allows user to "spread" the ground balance setting to reduce the response to subtle ground variations.
Fast Track™ Ground Balance: Automatic feature that allows user to quickly ground balance the detector in mineralized soil conditions.
Electronic Pinpointing: This Non-Motion All-Metal Mode is used to precisely locate a detected target's location in the ground.
One-Touch Treasure Hunting: With the touch of a button your metal detector is powered on automatically and reset to factory default (or your) settings and ready to search!
Battery Condition Indicator: Shows batter life continually.
Depth Indicator: Continually shows depth of coin-size objects.
Search Modes (Discrimination Patterns): 3 plus electronic pinpointing.
Factory Included Items
Garrett AT GOLD Metal Detector
Garrett 5″ x 8″ PROformance DD submersible search coil: Perfect for locating small objects.
Garrett Master Sound Headphones: Built, field tested, and approved for land use with all types of metal detectors.
Garrett Search Coil Hardware Kit: This kit includes the nut, bolt and washers that hold the search coil to the lower pole of your Garrett Metal Detector.
Garrett AT Gold Instruction Manual: Instruction Manual to help assemble, take care of, and learn how to operate your metal detector.
4 "AA" Batteries Included: Go Metal Detecting the moment you receive your Metal Detector.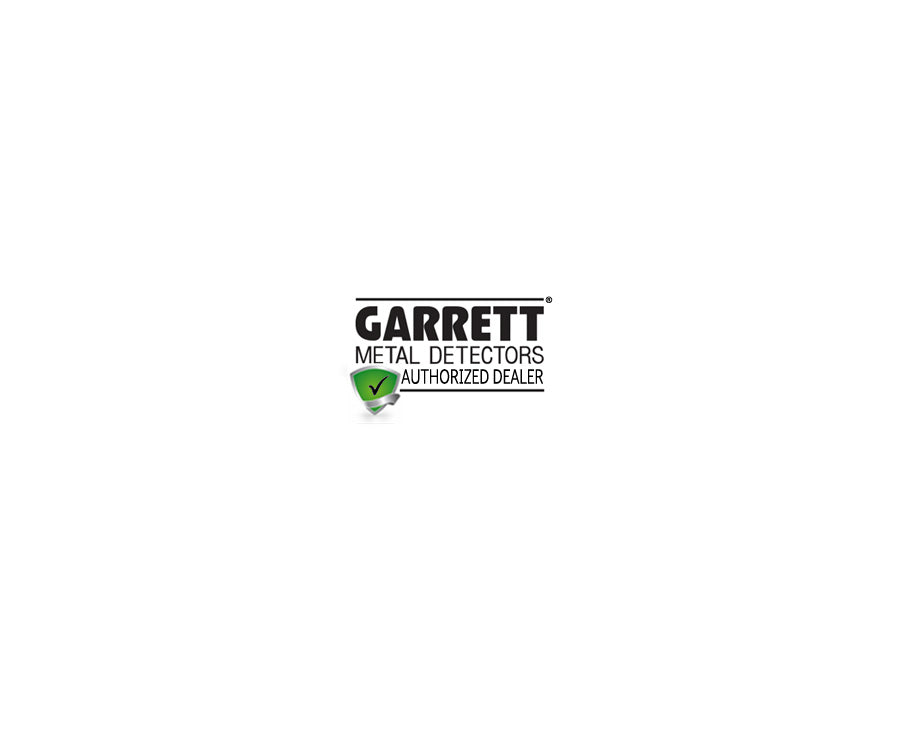 Specifications
Manufacturer: Garrett
SKU: 1140680
Product Type: Metal Detectors
Best for Beach, Coin, Gold, and Relic
Interchangeable Search Coil: Yes
Technology: VLF Single Frequency
Arm Rest: Fixed
Arm Rest: Strap Yes
Adjustable Shaft: Yes
Assembled Length Max (in): 51
Assembled Length Min (in): 4
Audio Tones: Yes
Depth Indication: Yes
Control Box Mount: Standard
Frequencies: 18 kHz
Number of Frequencies: 1
Programmable Target Id: Yes
Target Id Segments: 12
Target Id: Yes
Threshold: Adjustable
Discrimination: Adjustable
Pinpoint Mode: Yes
Ground Balance: Automatic, Manual
Search Modes: 4
Search Mode Types: All Metal, DISC 1, DISC 2, Pinpoint
Display Type: LCD
Backlit Display: No
Volume Control: No
Headphone Jack: Underwater
Bluetooth Compatible: No
Interchangeable Headphones: Yes
Battery Type: (4) AA
Battery Life (hr): 20 to 40 Hours, Varies with Battery Type
Waterproof: Yes
Rechargeable System: No
Warranty: Two Year
See - frequently asked question

How much does this unit weigh?

The AT Gold weighs in at 3.03 pounds with the 5" x 8" smaller coil, it weighs slightly less than the AT Pro, and AT Max with their stock 8.5" x 11" coil.