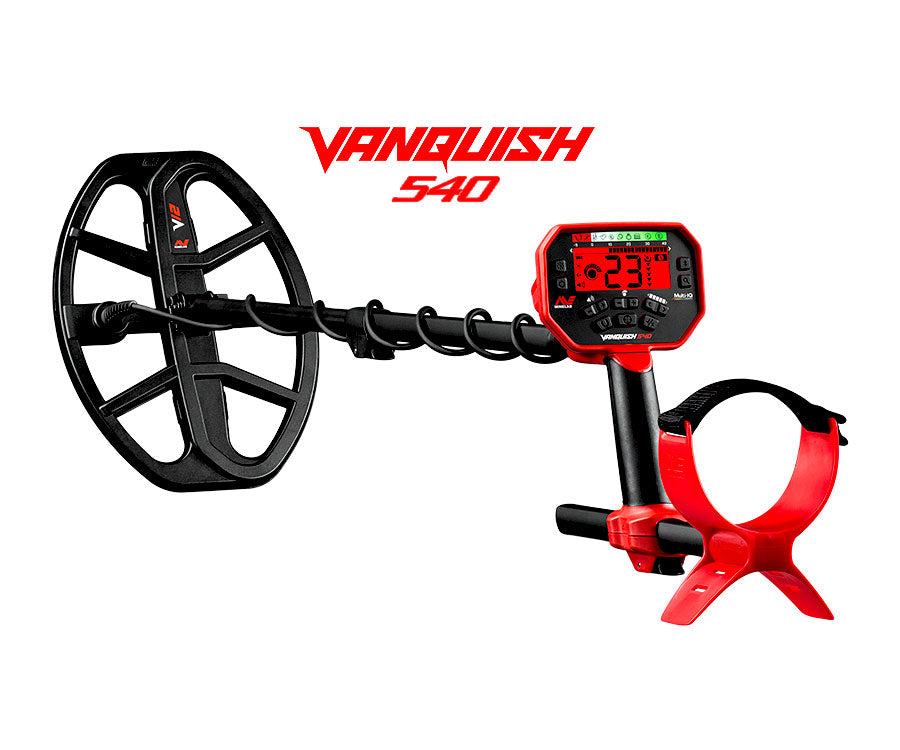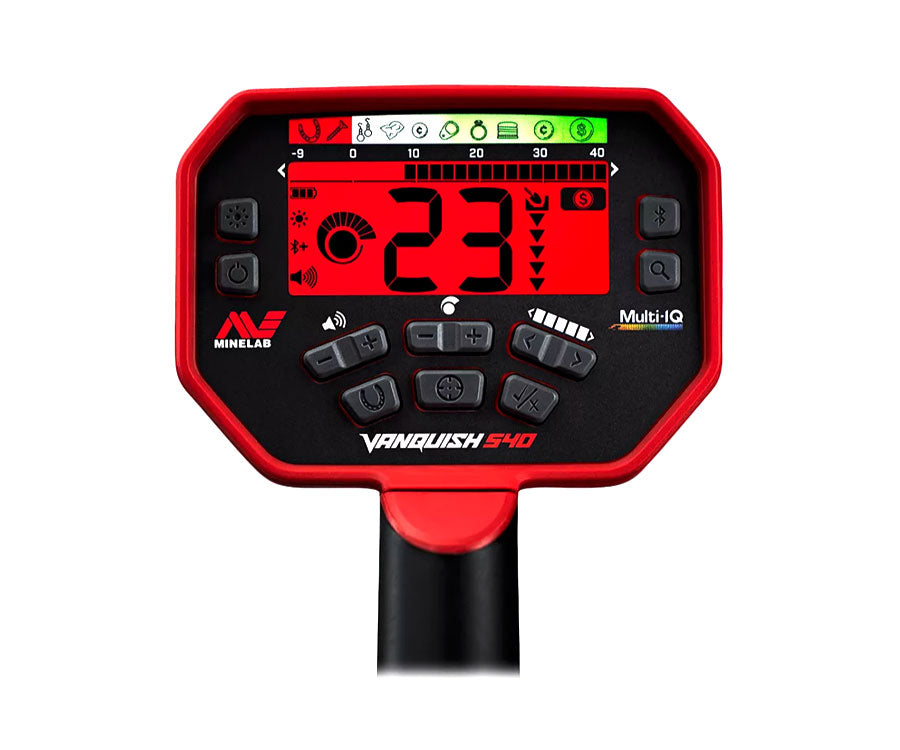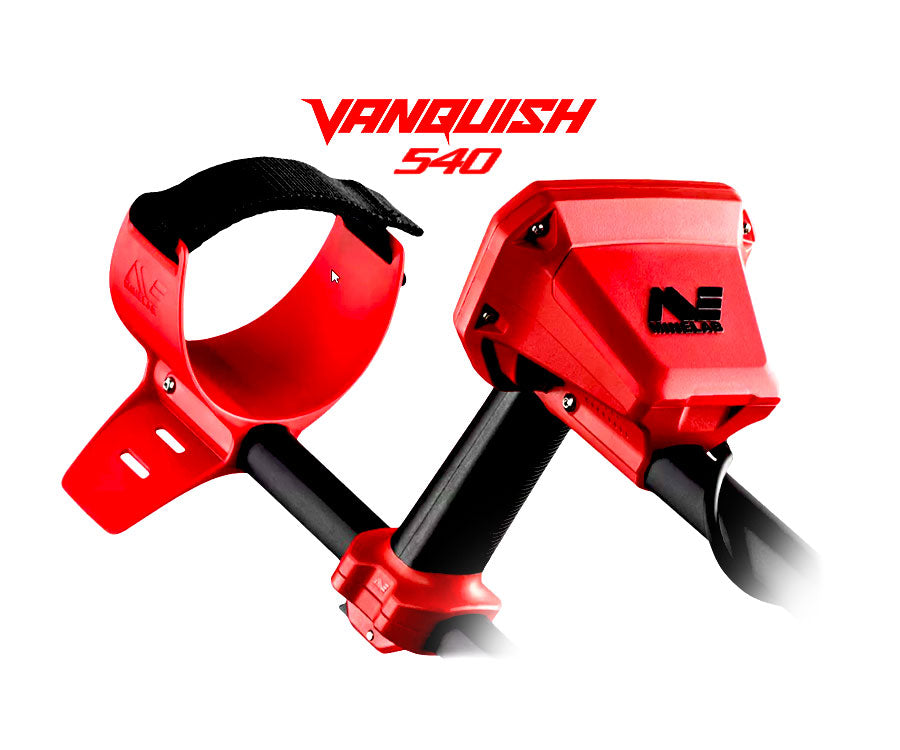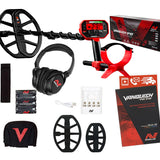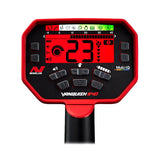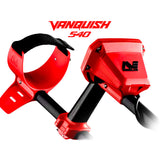 Minelab | Vanquish 540 Pro-Pack Metal Detector | LMS Metal Detecting
Manufacturer SKU 3820-0004
Minelab Vanquish 540 Pro-Pack Metal Detector with V12 Coil, V8 Coil, and ML-80 Bluetooth Wireless Headphones
Minelab VANQUISH 540 Pro-Pack Metal Detector: for the serious detectorist who's always in control. As if Multi-IQ technology, audio control, and pinpoint weren't enough, the 540 also boasts iron-bias control, Bluetooth headphones, red LED backlight and rechargeable batteries. What's more, it comes with waterproof 8" and 12" coils as standard for greater depth and precision. No matter where the hunt takes you, the 540 is the ultimate pack for those who want it all.
Product Highlights:
Iron Bias: Adjustable between High and Low

Included Coils: Comes with 12" and 8" search coils and skidplates
Waterproof coils up to 3.3ft

Audio Control: Noise cancelling, lag-free audio

Headphones: Included Bluetooth Wireless Headphones ML 80 WHP 

Pinpoint Mode: Allows you to hunt with extreme precision

Backlight: Red LED backlight for low-light hunting

Weight: 1.3kg (2.8 lbs)

Collapsible: Yes, Snap-Lock system makes it easy to pack and go
Minelab | Vanquish 540 Pro-Pack Metal Detector | LMS Metal Detecting
Minelab
Vanquish 540 Overview
The VANQUISH series is a lightweight, collapsible, fully adjustable, waterproof/water resistant and affordable metal detector for the coin and treasure market utilizing Minelab's revolutionary Multi-IQ technology.
The VANQUISH can unearth coins, silver and gold jewelry, and other metal items of interest across varied terrains such as parks, fields and at beaches, with unique performance in wet beach sand.
The Bluetooth enabled VANQUISH 540 and 540 Pro Pack offer the most versatility with the added red LED backlight functionality, 10-volume control settings, headphone accessories, and advanced settings.
Minelab Vanquish 540 Getting Started Guide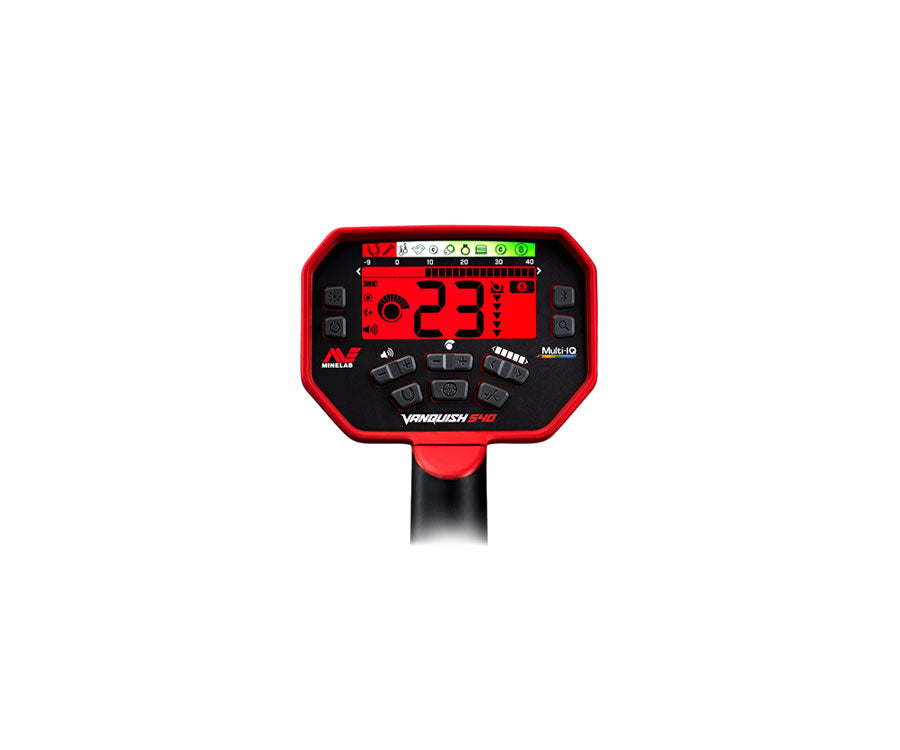 Features
Multi-IQ Technology
Lightweight
Collapsible
Fully Adjustable
Three Modes – Coin, Jewelry, and Relic
Bluetooth ready
Red LED Backlight Functionality
10-Volume Control Settings
Advanced Settings
Factory Items Included
Vanquish 540 Metal Detector
Waterproof V 12 Coil and Skidplate
Waterproof V 8 Coil and Skidplate
Rain Cover
Four Rechargeable AA NiMH Batteries and Charger
ML 80 Wireless Headphones and Accessories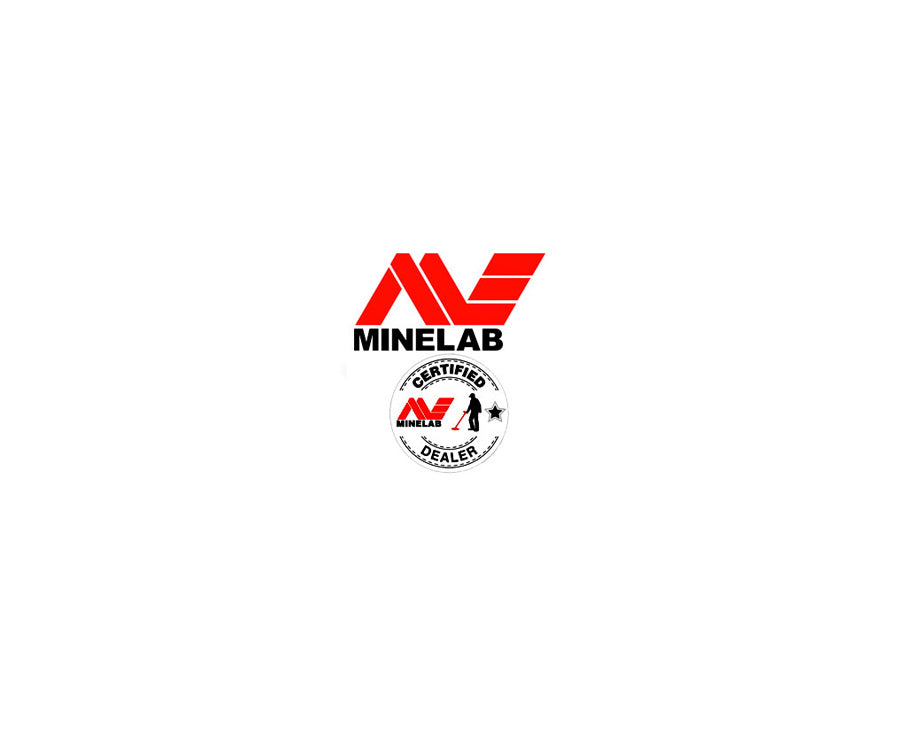 Specifications
Manufacturer: Minelab
Minelab: Vanquish 540 Pro Pack
SKU: 3820-0004
Best for: Beginner, Coin, Relic, Beach
Detector Type: All-Purpose
Interchangeable Search Coil: Yes
Technology: Multi-IQ
Arm Rest: Adjustable
Arm Rest Strap: Yes
Adjustable Shaft: Yes
GPS: No
Audio Tones: Yes
Depth Indication: Yes
Programmable Target Id: Yes
Target Id: Yes
Pinpoint Mode: Yes
Vibration Mode: No
Search Modes: 4
Search Mode Types: Coins, Custom, Jewelry, Relics
Search Flashlight: No
Display Type: LCD
Backlit Display: Yes
Volume Control: Yes
Bluetooth Compatible: Yes
Interchangeable Headphones: Yes
Rechargeable System: Yes
Warranty: 3 Year
See - frequently asked question

Does this include the V8 8"x 5" coil?

Thie Pro Pack does include the V12 (12"x 9") coil and the V8 (8"x 5") coil.

Recommend for saltwater beach?

Yes it does very well in those conditions.

Does the red LED backlight change colors?

Is a charger included for the batteries, and will normal AA batteries work with this as a backup if the rechargeable ones aren't charged?

Yes a 4 bank AA charger is included, and regular AA batteries will work perfectly fine as well.