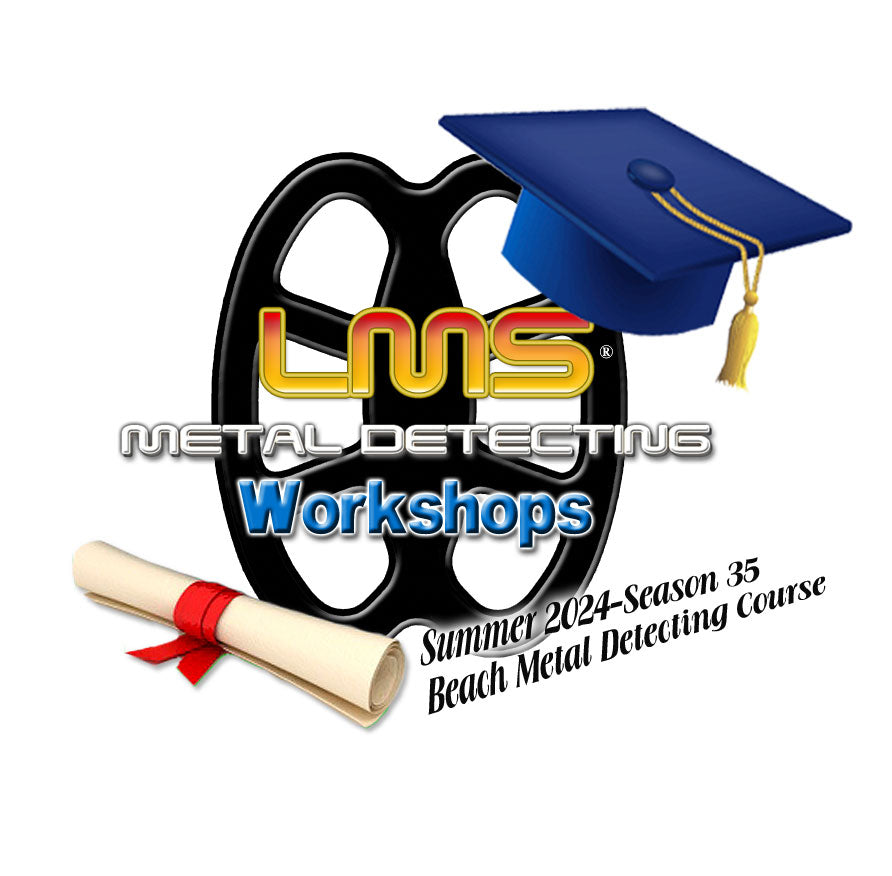 Metal Detecting Course | Summer 2024
$50.00
Regular price
$75.00
Description

Location

Dates | Times | Topics
Our Summer 2024 (season 35) Metal Detecting Course is currently being scheduled. If you wish to be notified when registration is available, please use the notify me when available tab (above) and you will be emailed, or SMS text messaged when this course is open for registration.

Registration for the summer 2024 Metal Detecting Course ends when the class is full, or one week (7 days) before the scheduled start date.
Classes are normally held at LMS Metal Detecting located at 132 Cypress Creek Dr Murrells Inlet SC, 29576 or a nearby (less than a mile) facility depending on availability.
July 5, 2023 10:00AM - 12:00PM
• Code of Conduct - metal detecting ethics
• Introduction to metal detecting equipment
• VLF, Muti-Frequency, Pulse Induction (PI) metal detectors - the different kHz ranges they operate at and how to make the best use of them
• Coils – how the size and type can affect your metal detecting session and why 
July 11, 2023 10:00AM - 12:00PM
• Accessories – what you'll need, and what to avoid
• Coin, Relic, Beach, Natural Gold, and lost Ring/Jewelry recovery programs how and why
July 18, 2023 10:00AM - 12:00PM
• Site Research, Mapping Techniques and proper Site Assessments
• How to get permissions and dealing with liability insurance issues 
July 25, 2023 10:00AM - 12:00PM
• Cleaning and identifying your finds
• How to properly maintain your metal detecting equipment and accessories
TBA 2 hr Beach Hunt
• Two hour hands on training at the beach so we know you're on the right track to master your metal detecting goals.
TBA 2 hr Beach Hunt
• Two more hours hands on training at the beach.
Metal Detecting Course | Summer 2024
$50.00
Regular price
$75.00
See - frequently asked question

Is this an online class?

No this is a traditional in-class learning experience.

I want to go, is there still enough room for me, and when does registration close ?

This listing will show "sold out" after the class reaches its maximum of 10 people.

Registration for the spring beach metal detecting course ends when the class is full, or on April 04 2022 at 10:00AM when the course is scheduled to begin.

What will I need to bring with me?

You do not need a metal detector to participate in this course, we actually prefer that you complete the course before making a decision on what you should or shouldn't purchase based on your own personal needs and budget. Please bring your own materials for taking notes.

What is covered in the courses?

Our course curriculum is outlined just above near the description. You can also get more information HERE