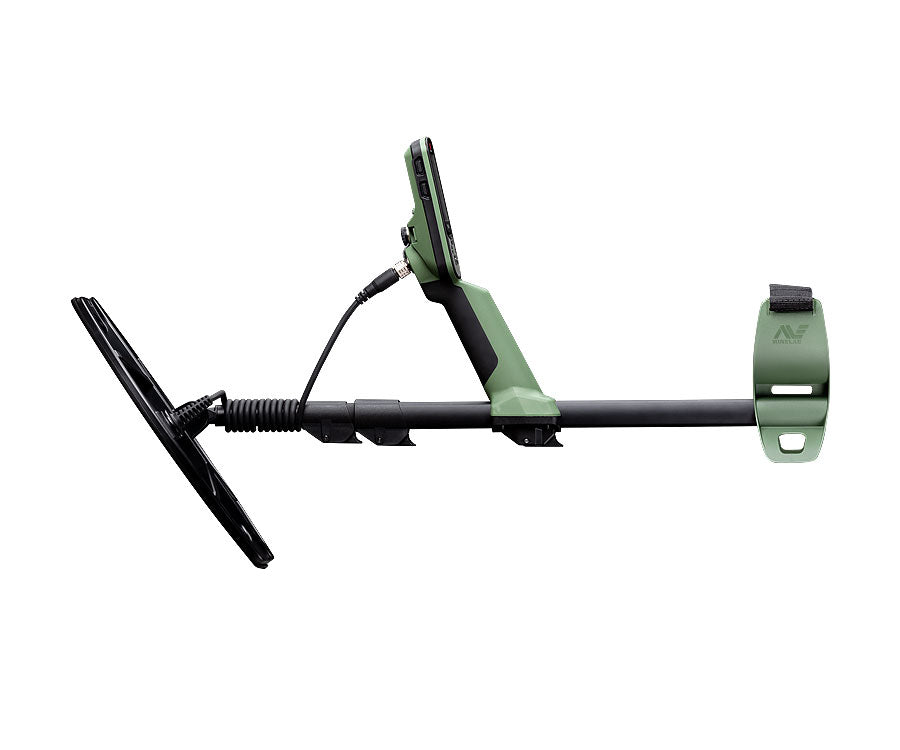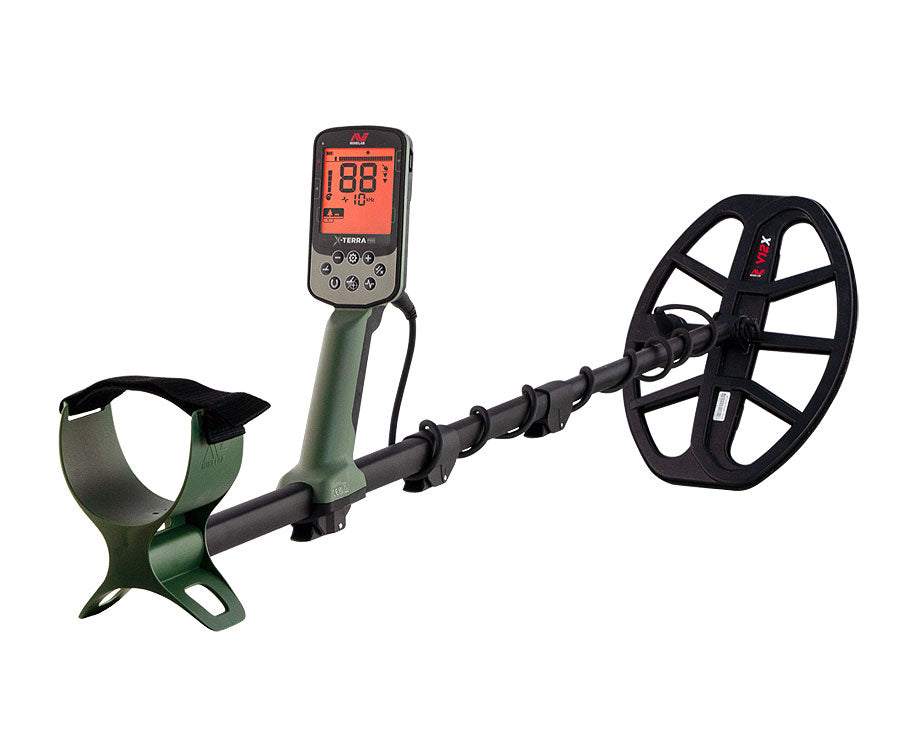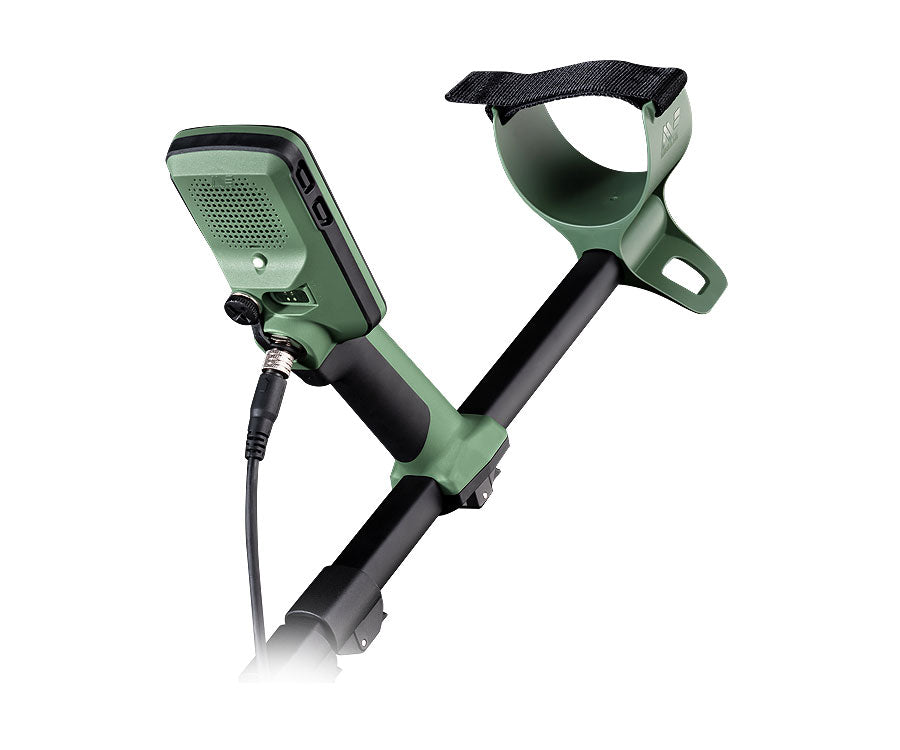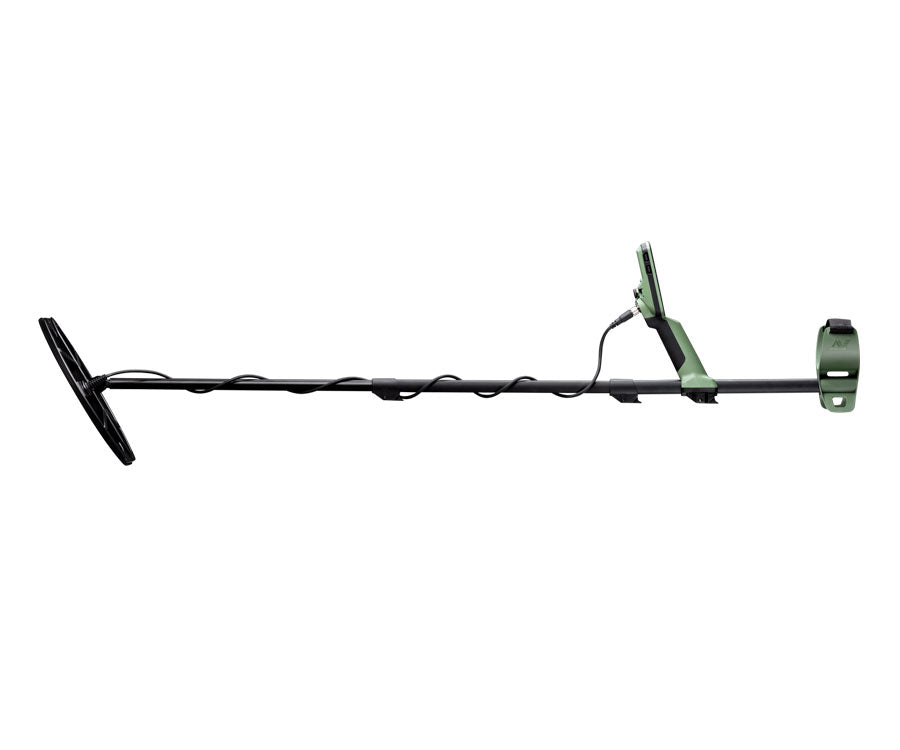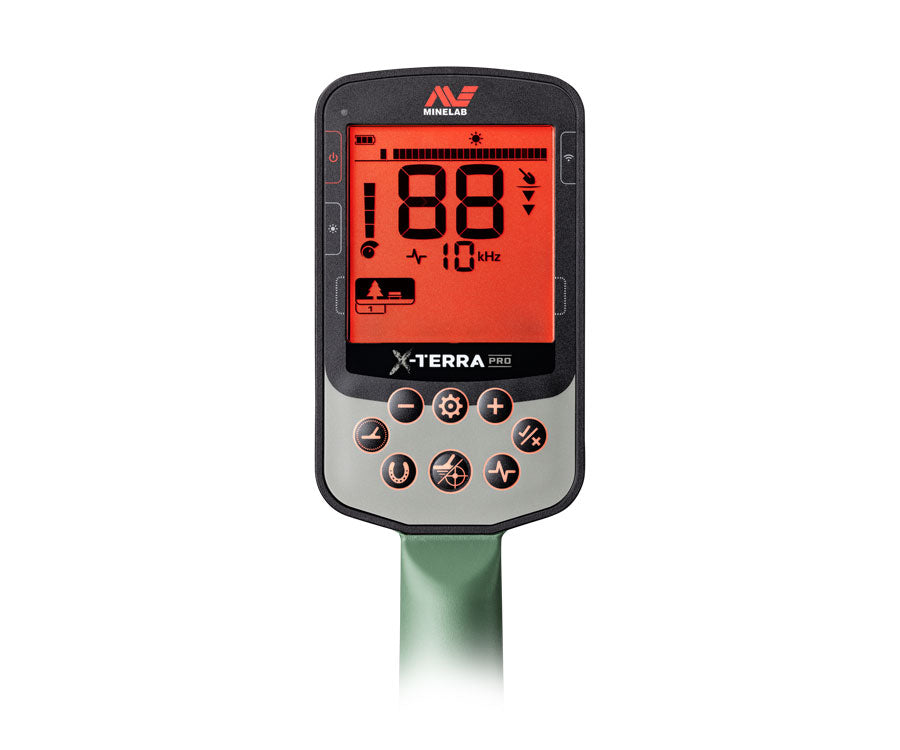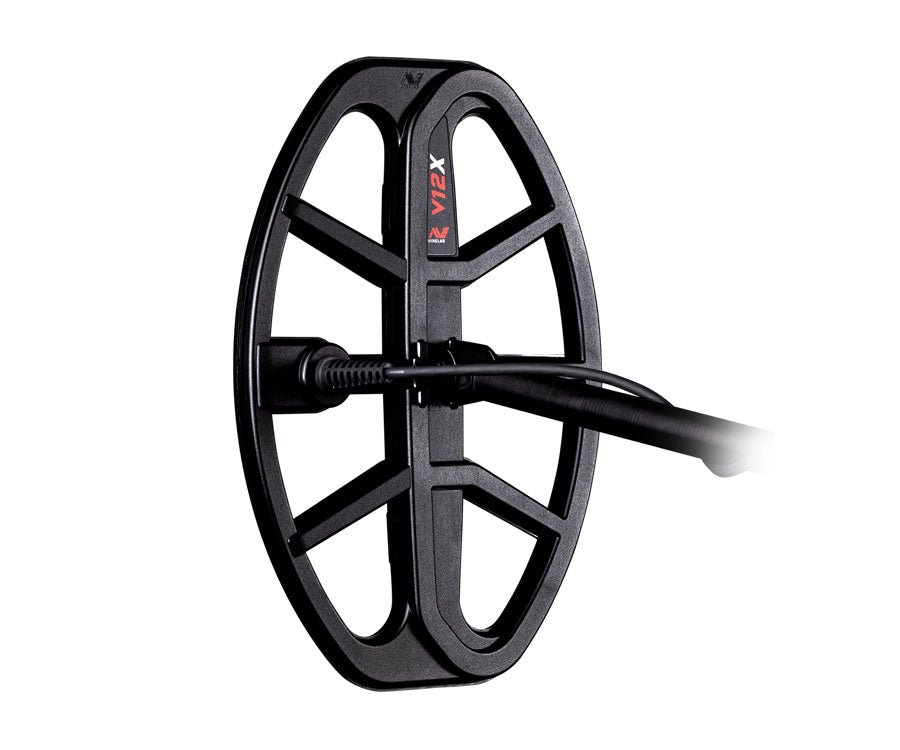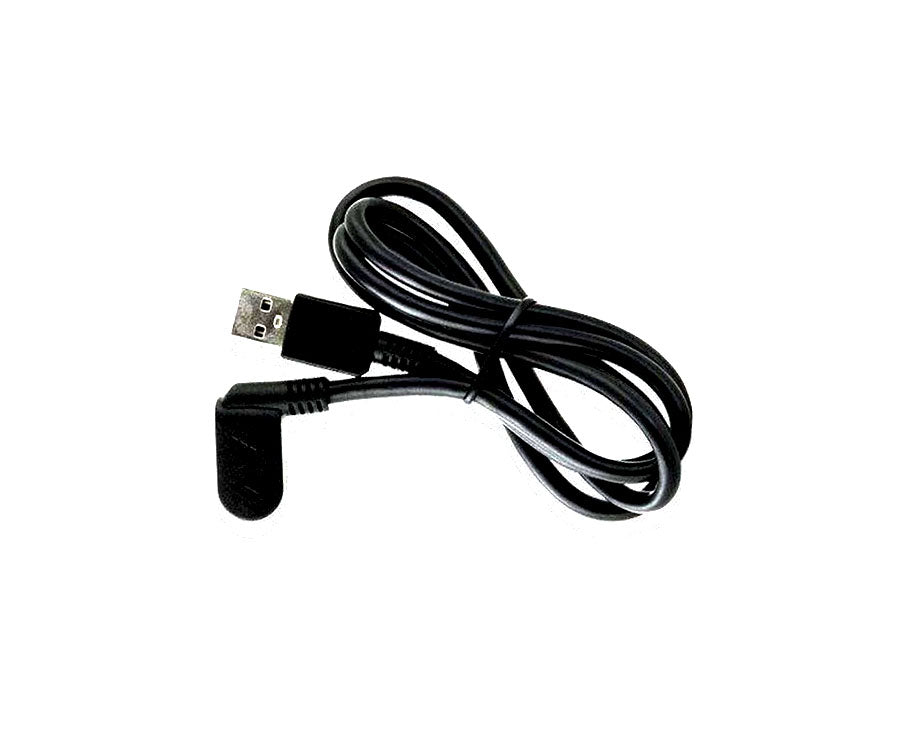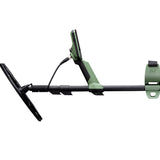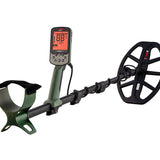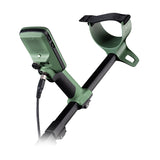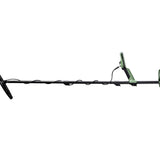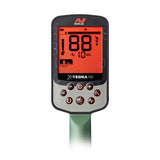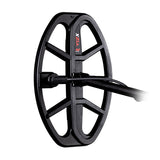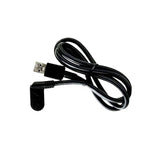 Minelab | X-Terra Pro Metal Detector | LMS Metal Detecting
Manufacturer SKU 3707-0001
Minelab X-Terra Pro Metal Detector With V12X DD Coil Powered By Pro-Switch™
The NEW X-TERRA PRO is powered by PRO-SWITCH™, a switchable frequency technology that delivers superior target ID accuracy and high-end saltwater performance. Leveraging advanced features and the sleek and tough construction of the EQUINOX series, X-TERRA PRO is already making waves for its affordability and comprehensive feature set.

Product Highlights:
Special Features: Powered By Pro-Switch (Switchable Frequency Technology) 
Search Modes: Park, Field, and Beach
Search Coil: V12X DD and Skidplate

Construction: Waterproof up to 16t / 5m

Headphones: Compatible with the ML 85 Low Latency Wireless Headphones (Not Included) and Standard 1/8" Jack Wired Headphones

Weight: 1.3kg / 2.9 pounds
Warranty: 3 Year Limited Warranty
Minelab | X-Terra Pro Metal Detector | LMS Metal Detecting
Minelab
X-Terra Pro Overview
Stand out from the crowd and step-up your detecting game with the all-new X-TERRA PRO treasure detector by Minelab. Out of the box, simply set your detector to match your terrain with Park, Field and Beach Search Modes and leave all the hard work up to the detector to start unearthing the treasure you seek. As your skills improve, X-TERRA PRO offers room to grow with PRO-SWITCH (Switchable Frequency Technology), so you can set it to 5, 8, 10, or 15 kHz at the press of a button and take control of any environment or situation that comes your way. Fully IP68 waterproof to 5 m (16 ft) and loaded with features like 5-audio modes, control pod flashlight, and handgrip vibration you'll be detecting like a pro from the moment you start swinging.

X-Terra Pro Getting Started Guide - Download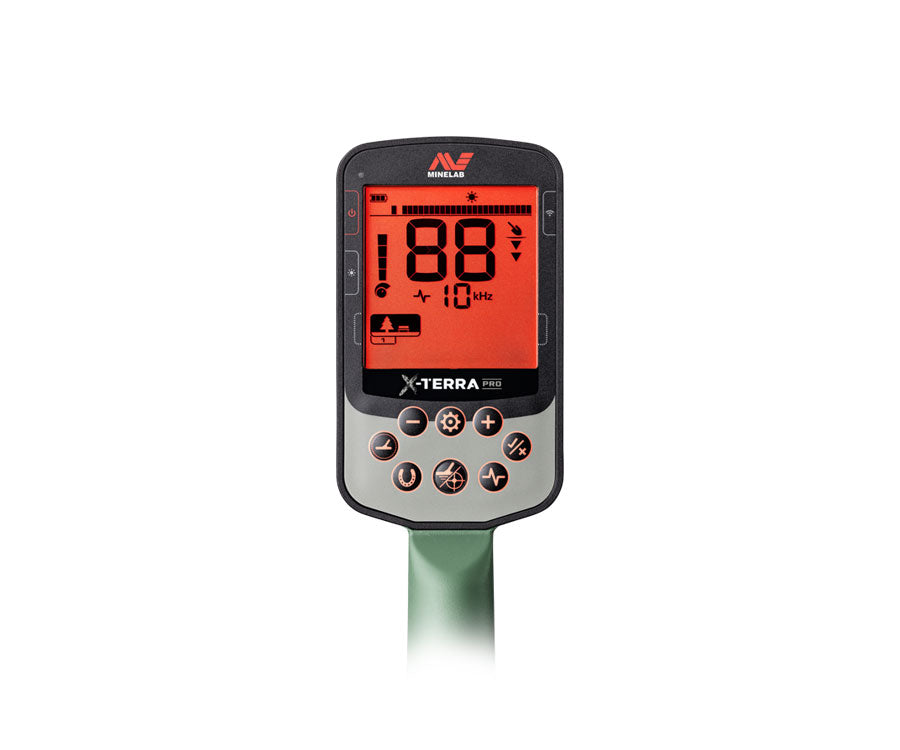 Features
Search Modes: Park, Field, and Beach
Fully Waterproof: Waterproof to 5 M (16 FT) — IP6
Beach Performance: Saltwater Capability
Light and Compact: 1.3 kg (2.9 lb) and 63 cm (25 in)
Audio Control: 5 Audio Modes with configuration options
Choice Of Coils: V12X™ (Included) | V8X™, V10X™, EQX06™, EQX11™, EQX15™ (Accessories)
Lighting and Vibration: Control Pod Flashlight, Red Backlight Display, Backlit Keypad, and Handgrip Vibration
Loud and Clear Audio: In-Built Speaker (Included), Low Latency Wireless Headphones, Wired Headphones & Waterproof Headphones (Accessories Not Included)
Built To Last: Rugged construction and up to 3-year Warranty
Factory Items Included
X-Terr Pro Metal Detector
V12X Double-D Coil (12 x 9) Elliptical
V12X Skidplate
USB Charging Cable with Magnetic Connector
Getting Started Guide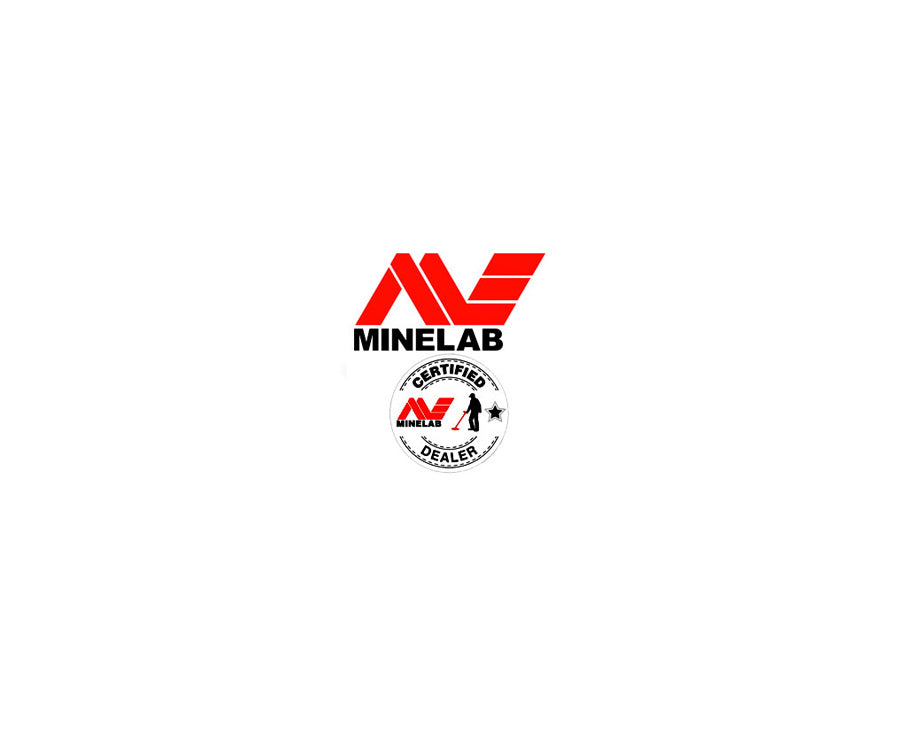 Specifications
Manufacturer: Minelab
Manufacturer SKU: 3707-0001
Best for: Beginner, Saltwater Beach, Coin, Relic, Gold, Advanced
Detector Type: All-Purpose
Interchangeable Search Coil: Yes
Key Technologies: Pro-Switch™
Search Modes: Park, Field, Beach
All-Metal Shortcut: Yes
Custom Search Profiles: 6
Operating Frequencies (kHz): Park and Field 5, 10, 15 | Beach 8
Noise Cancel: Auto (19 Channels)
Ground Balance: Auto, Manual, Tracking
Sensitivity: 1 to 25
Target Volume: 0 to 25
Threshold Level: 0 to 25
Threshold Pitch: Fixed
Target Identification (TID): 119 segment notch discrimination: Ferrous: -19 to 0 I Non-ferrous: 1 to 99
Target Tones: l, 2, 5, All Tones (At), Depth (dP)
Tone Break: Ferrous (FE)
Tone Volume: Tone 1 adjustable - 0 to 25
Recovery Speed: 1 to 3
Depth Indicator: 5 Levels
Discrimination Segments: 30 segments (in increments of 4 Target ID's)
Pinpoint Mode: Yes
Wireless Audio: Yes
Length (approx.): Collapsed: 63 cm (25 in) Extended: 138 cm (54 in)
Weight (including batteries): 1.3 kg (2.9 lbs)
Display: Monochrome LCD
Display and Keypad Backlight (red): Off, High, Low
Display and Keypad Backlight (red): Off, High, Low
Flashlight: On, Off
Vibration (Master and Ferrous): On, Off
Audio Output: In-built loudspeaker, Wired 3.5 mm (1/8") headphones, Wireless headphones
Battery: 3.7V/5100 mAh Internal Lithium-lon battery
Waterproof: 5m (16 ft) IP68
Operating Temperature Range: -10 to +40 degrees Celsius (+14 to +104 Fahrenheit)
Storage Temperature Range: -20 to +70 degrees Celsius (-40 to +158 degrees Fahrenheit)
Key Technologies: Pro-Switch™
Warranty: 3 Yr.
See - frequently asked question

Will my ML 80 headphones work with this detector?

No if you're looking to go wireless, the ML 85 Wireless Headphones are used with the X-Terra Pro.

Is X-TERRA PRO a new version of the X-TERRA 305/505/705 series?

The X-Terra Pro is a completely new (2023) detector designed from the ground up. It leverages the robust compact form factor of the new EQUINOX series as well as the rich history of the X-TERRA 305/505/705 switchable frequency detectors. X-TERRA PRO introduces the innovative new PRO-SWITCH technology.